When Facebook acquired Instagram back in 2012, the world's collective jaw dropped at the $1 billion purchase price. A decade later, that purchase is looking like the smartest thing Facebook has done since its inception. Consider these statistics:
Instagram ad revenue for the US alone in 2022 is projected to exceed $33.25 billion, after growing 40.4% in 2020 and 100.5% in 2019 and anticipated growth in 2021 in excess of 50%.  eMarketer estimates that Instagram ad revenue share will continue to rise and will make up more than 60% of Facebook's forecasted ad revenue in 2023.

Instagram Ads can potentially reach 22.6% of the global population aged 13+.

90% of Instagram's users follow at least one brand.

50% of people are more interested in a brand when they see ads for it on Instagram.
Add to this picture the fact of Instagram's shoppable photos feature, along with its new Branded Content partnerships, its vertical style feed and live streams features added in 2021 and it becomes apparent that the platform is going to dominate the social marketing landscape in the coming years. With all this attention on Instagram for business, though, comes a downside. Brands are going to have to work harder than ever to get noticed, let alone sustain engagement. What's bad news for brands is good news for influencers, however. There are over 1 billion monthly active users on Instagram (500 million daily active users), and companies will have to increasingly funnel their message through influencers if they want to reach the right audience.
2022 will continue the gold rush for Instagram influencers as brands race to stake their claim on as many and as diverse a group of them as possible. With that rush comes the need for the right tools to locate and vet new talent while needing to manage multiple campaigns and the people involved. With this in mind, finding a decent influencer marketing platform becomes of paramount concern. Keep in mind, though, if you're targeting Instagram as your platform of choice, simply searching for the "best" ones won't do. Some platforms are better than others when it comes to finding the stars who shine brightest on Instagram.
Here are the top Instagram Influencer Platforms you should check out:
---
23 Influencer Marketing Platforms for Instagram You Need to Try in 2022: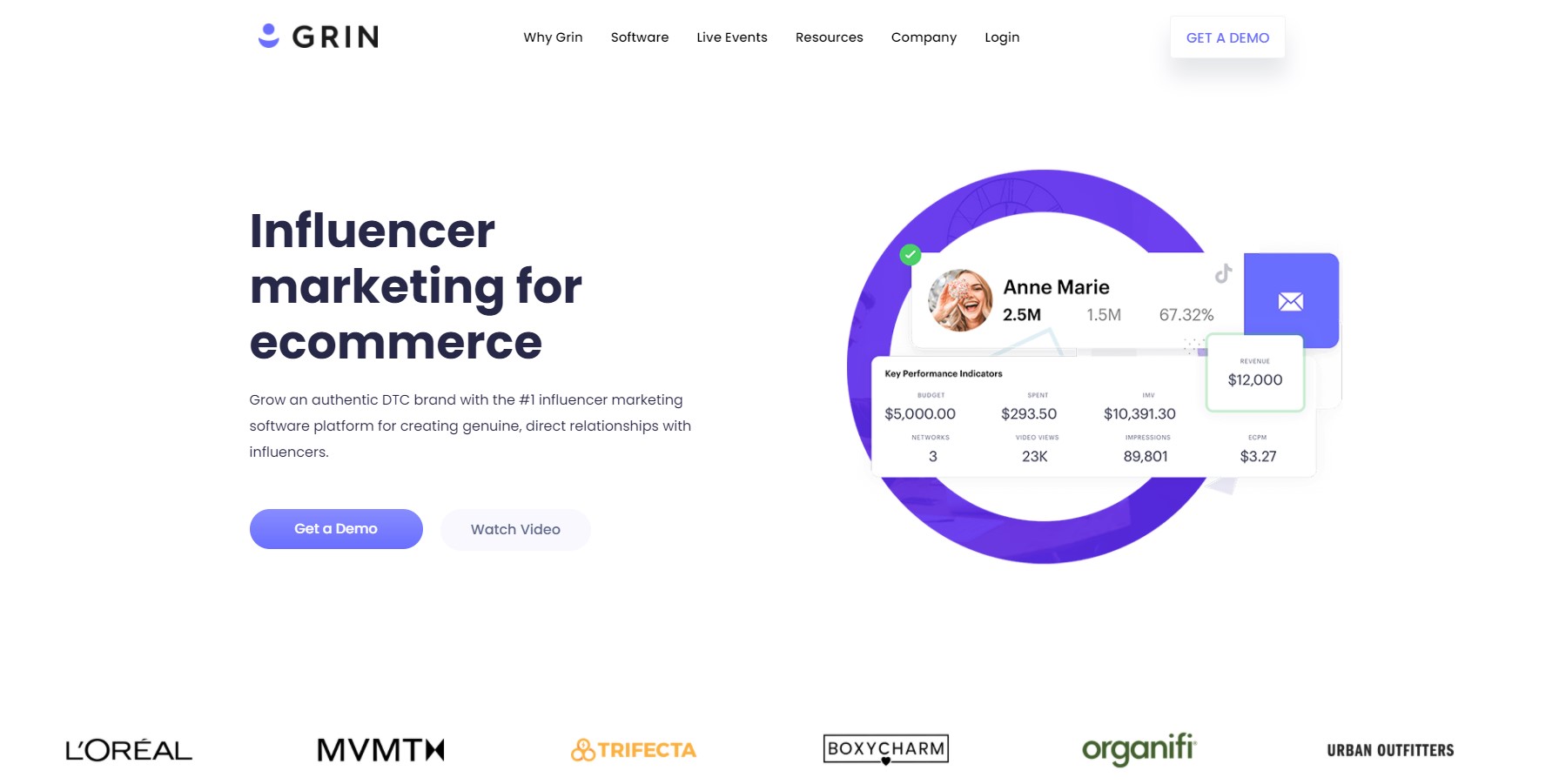 Grin has been part of the influencer marketing scene since 2014, before influencer marketing even existed as a separate concept. It recognizes that the first, and therefore most important, step of influencer marketing is cultivating a trusting relationship with the influencers in your field.
The platform customizes its pricing to your company. It focuses on factors such as your organization's size, what your current influencer program looks like, and what you want to achieve. Its customer base doesn't trend toward any size: small, medium, or large. Its target customer is a direct-to-customer eCommerce company, regardless of the vertical.
Users consider Grin easy to use despite offering all the major features that a top-tier marketing management software should. Grin integrates with most major social media channels, including Instagram. However, it also integrates with eCommerce software like Shopify, WooCommerce, and Magento so that you can manage and ship products to your influencers, create sales tracking links to pay commissions, create exclusive discount codes, and more. You can also integrate it with email systems like Gmail and Outlook, so every message you send from Grin comes from your mail domain, not some weird one-off address that's separate from your actual email.
Grin includes some nifty search methods, such as pulling potential influencers from your database of registered eCommerce site users, as well as some social listening capabilities. However, you can still search the "old-fashioned" way, with Grin's searchable database including influencers from Instagram, as well as YouTube and TikTok. It even automates the outreach process, where you start with a template, and Grin emails each person individually from your mail domain. All the emails look like a personal one-to-one message.
---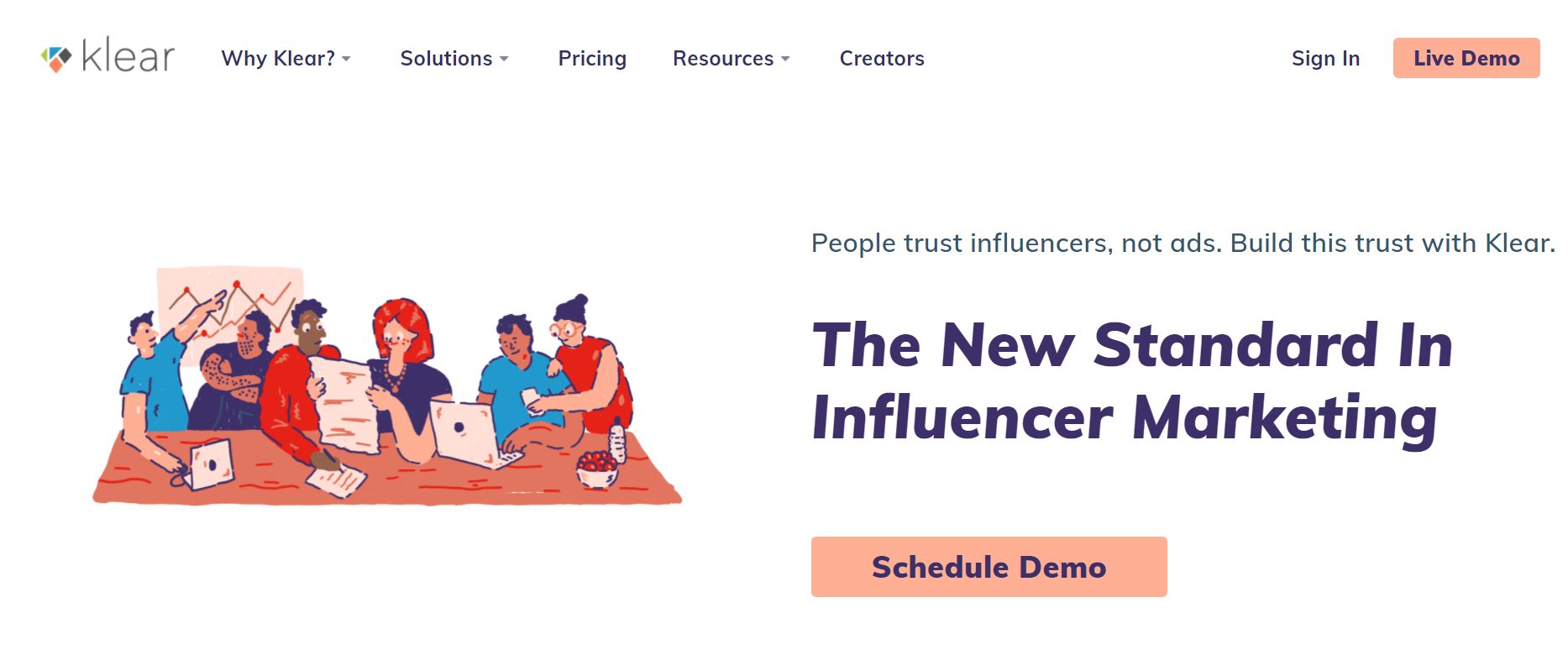 Klear grew out of Twtrland, an analytics platform designed to provide detailed insights into Twitter. Twtrland offered tons of data on users' posting habits, popularity, and followers' demographics. Over time, the platform expanded to include Instagram, YouTube, and TikTok and rebranded to become Klear. 
Klear's comprehensive Instagram influencer tool ensures you hire influencers that align and promote your brand's values. It incorporates comprehensive influencer insights for a complete understanding of an influencer's impact. Klear divides the influencers in its database into 60,000 topic categories and offers deep analytics about their audiences' demo- and psychographics. 
Klear is now an all-in-one influencer platform, although it still has a distinct strength in data analytics. They split their solutions into five components:
Find – Klear offers strong influencer discovery, matching brands with the most relevant creators for their audience. They claim their discovery capabilities are 2X more targeted than any other tool on the market. Advanced filters allow you to sift through profiles and focus on those who are relevant to your brand. Klear's AI-powered FakeSpot technology detects fake followers or engagements generated by auto-bots

Analyze – Klear includes in-depth tools to perform a complete influencer analysis. The Klear Influencer Score identifies users with the highest level of influence.

Manage – manage your campaign and keep the whole team synchronized with an integrated CRM

Connect – contains a smart and easy collaboration hub

Measure – Klear campaign reports are data-driven and use industry-leading metrics to quantify campaign performance.
Klear even automatically tracks Instagram Stories and aggregates all Stories into your campaign report.
---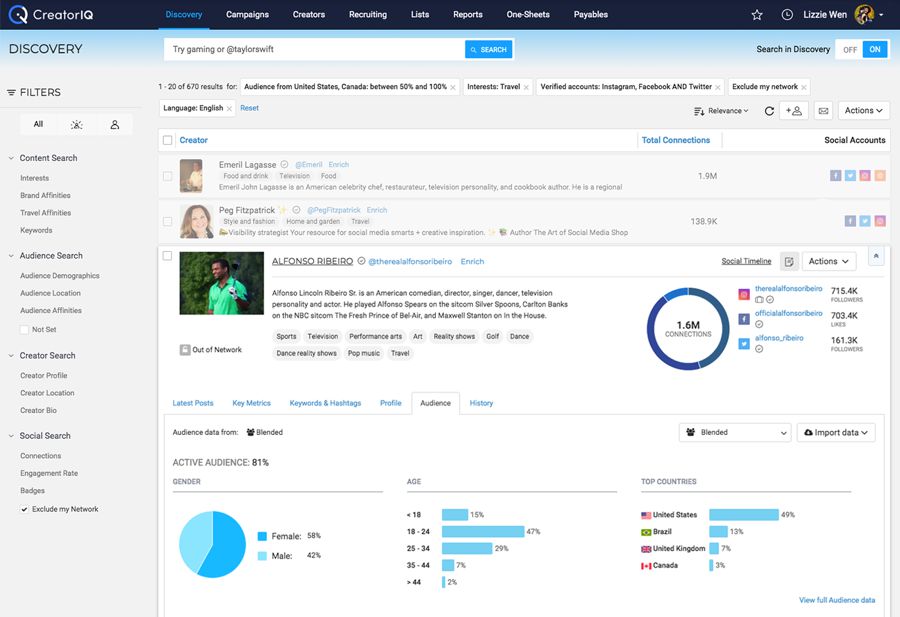 CreatorIQ describes itself as the influencer marketing cloud for the enterprise. It calls its product an Enterprise Creator Cloud, which it describes as being "built for big business because we don't take influencer marketing lightly." Clearly, CreatorIQ places its focus on streamlining the influencer marketing processes of the largest companies.
Possibly in recognition of the high demands of its potential customers, the developers of CreatorIQ have produced a truly end-to-end product, with an interface that's polished and efficient. The platform includes a polished version of virtually every feature and tool that its customers could demand of it.
CreatorIQ uses tech to not only simplify the influencer marketing process but to solve some of the problems that have long plagued the industry as a whole. It sees through follower fraud, inflated reach metrics, and inauthentic/mercenary influencers, and shows the real picture.
CreatorIQ's AI-powered algorithm analyzes over 1 billion public social accounts, checking everything against a set of criteria to see if they merit adding into the platform database. To date, they have indexed 15 million creator accounts into the system.
They use AI to analyze all types of content in minute detail – even using image recognition technology for visual content. Because CreatorIQ requires influencers to opt-in, they have access to far more data than is available via public APIs. CreatorIQ assigns each influencer an "Integrity Quotient," which is an indication of how genuine and authentic they are.
Once a client short-lists potential influencers, they ask these influencers to register on a fully customizable portal, where they fill out tax and compliance forms, self-identify their interests, and set up their payment options. The portal acts like a private influencer marketplace and is the hub for communication between a brand and its influencers.
Analytics and campaign reports sit on each brand's portal. They are fully customizable. Everything is widget-based, so you can include or exclude items as you desire.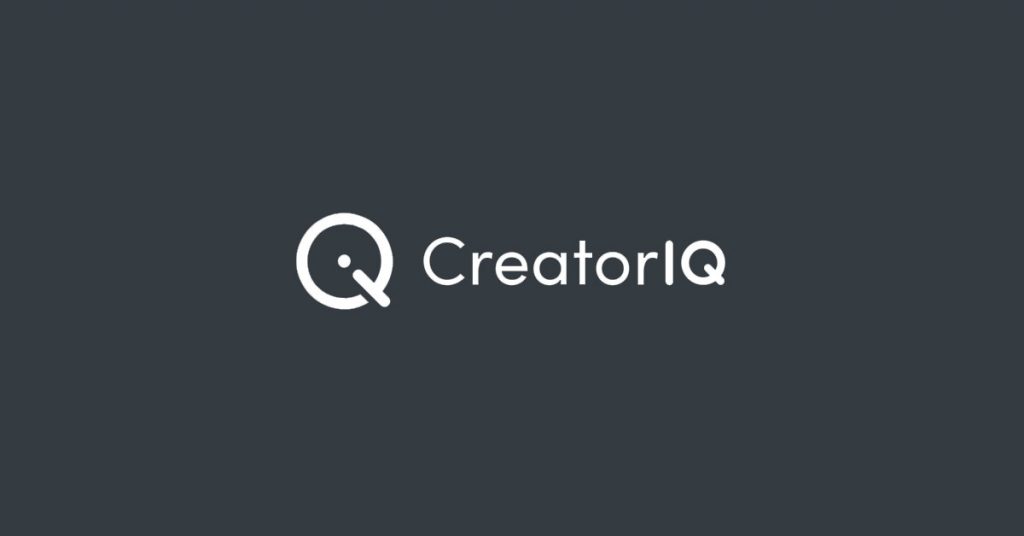 Services Offered: Search/Discovery, Automated Recruiting, Influencer Relationship Management, Content Review, Campaign Management, Campaign Reporting, Influencer Analysis, Audience Analysis, E-commerce Tools, Product/Gifting Tools, Forms and Compliance, Fake Follower/Fraud Detection, Payment Processing,
Channels: Facebook, Instagram, Twitter, YouTube, Pinterest, Twitch, Blogs
---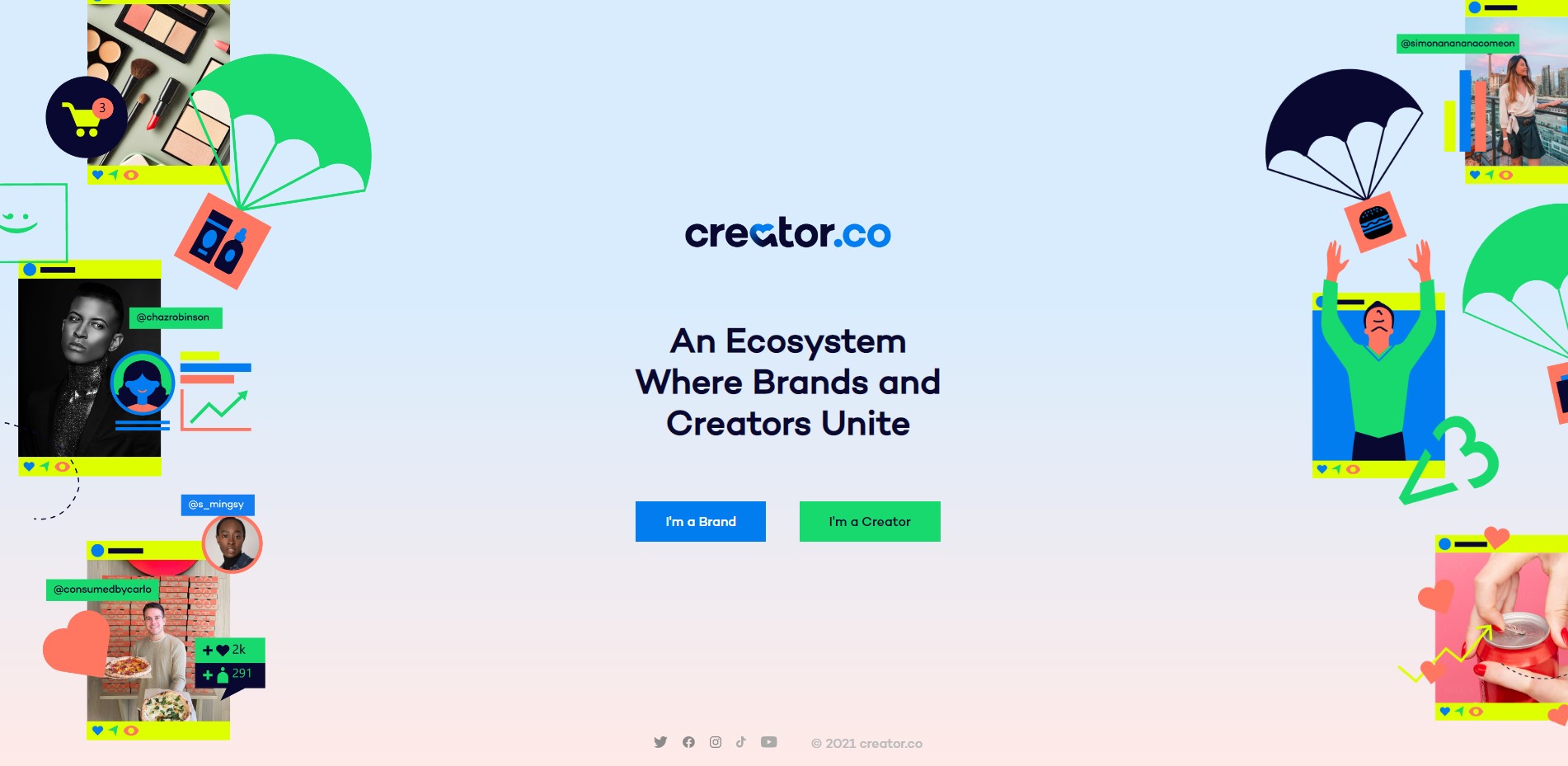 Creator.co focuses on influencers (and their content) for Instagram, along with YouTube and TikTok. It places as much emphasis on content creation as it does content distribution. However, it does feature a database containing details of 500 million influencers, with surprisingly in-depth data on these influencers and their audiences, more than you would expect from a platform targeting small and medium businesses.
The platform also offers a "hands-free" version, the Community-Driven (automated) Plan, where brands describe their intended campaign and ideal influencer. Here, Creator.co suggests influencers from a smaller, vetted talent pool of around 80,000. In this case, Creator.co finds suitable influencers and checks on their willingness to participate in the campaign.  The brand merely needs to choose whether to activate each recommended and willing influencer.
Whether you're working with the self-service plan or the automated one, the first thing you need to do is create and define your campaign. You will want to be as specific and detailed as possible. You can fully customize your campaigns, but Creator.co includes two prefabricated types: the ShoutOut campaign, essentially an exchange of free products for exposure, and Giveaways, where you work with influencers to drive followers to your profile by running contests for freebies.
Campaign dashboards are very cleanly laid out, easy to navigate between pending opt-ins, campaign performance metrics, and the collection of content already posted.
---
AspireIQ is maturing as an influence marketing platform and is improving its feature set regularly. It has always had particular strength with its influencer management tools, which are robust enough to attract high profile clients.
It provides tools for all stages of an influencer marketing campaign. These include Campaign Creation, Campaign Lifecycle Management, Digital Term Sheets, Product Tracking, Content Collaboration, Trackable Sales Links, Creator Performance Spreadsheet, Campaign Analytics, and Payments. This has to be one of the most comprehensive management toolsets available.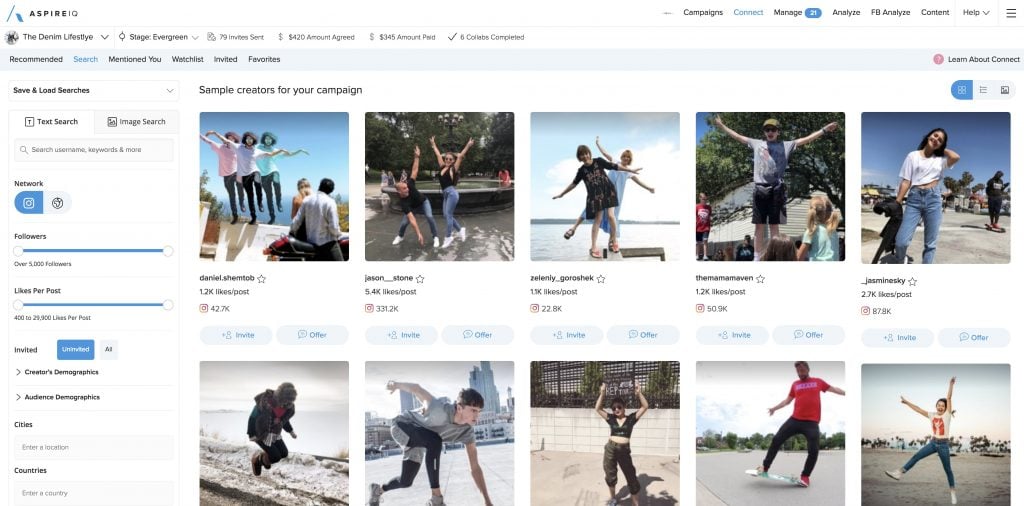 Over the last year, AspireIQ has worked on improving its influencer discovery search engine and processes.
Influencers can request to be included in AspireIQ's database and are vetted before they are accepted. However, AspireIQ has created a more extensive database of influential people. They use an algorithm to add to the list of potential influencers they offer to their clients. They currently have 500,000 people in their system who they believe are authentic influencers in at least one niche.
Clients can search for influencers using an extensive range of criteria. However, they also provide the "Quickmatch" feature as an alternative way to find influencers. This is similar to a "Tinder for Influencers." If you navigate to the Quickmatch tab, it will present you with an influencer who meets your preferences. You can either show an interest in this person or opt to Skip and take a look at another influencer.
When a campaign finishes, AspireIQ allows you to add high-performing content to a Favorites list, you can use for future reference. There are also tools that will enable you to repurpose campaign content into paid ads.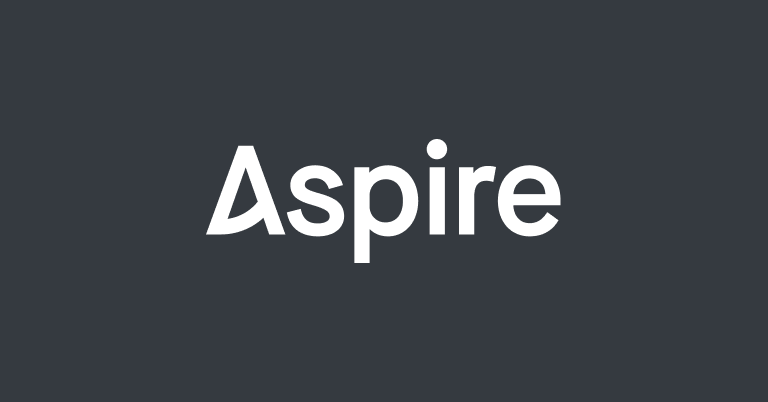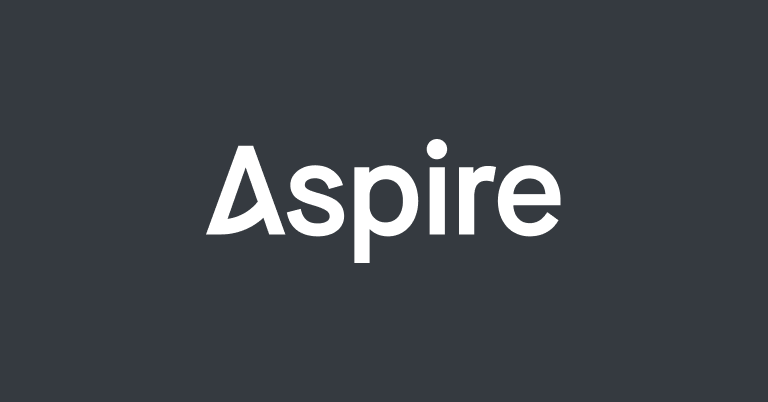 Services Offered: Search/Discovery, Influencer Relationship Management, Influencer Marketplace, Team Collaboration Tools, Content Review, Content Library, Campaign Management, Campaign Reporting, E-commerce Tools, Product/Gifting Tools, Forms and Compliance, Payment Processing, Social Listening, Competitor Research, Visual Discovery, Influencer Content Amplification,
Channels: Instagram, YouTube, Facebook, Twitter, Pinterest, Blogs
---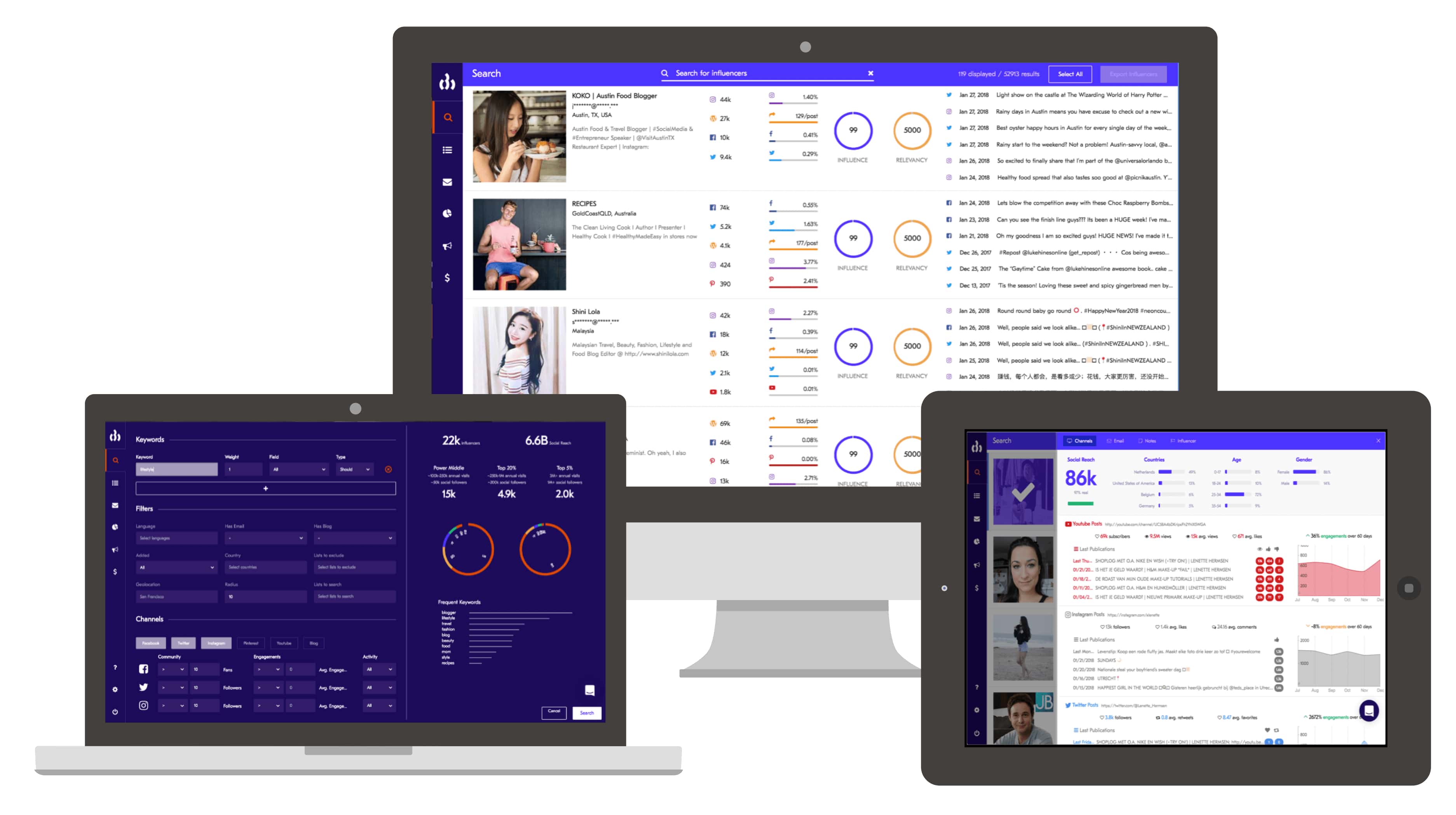 Upfluence is a self-service influencer discovery platform, targeting influencers on all of the main social channels, including Instagram, as well as the blogosphere. It comes at a comparatively low cost compared to many of its competitors, bringing it into the realms of small and medium-sized businesses. Despite this, Upfluence can claim numerous big-name clients, including Microsoft, PayPal, Ralph Lauren, and AXA.
Although the highlight of Upfluence's offering is undoubtedly its search software, you can do much more than just hunt for influencers. Their software allows you to manage your preferred influencers into lists. It gives you full access to their personal contact details. You can even export their details in bulk and contact them at scale. The Upfluence database is mind-boggling. Its algorithm indexes over 500 million items of content, and analyses each piece for reach and engagement.
This means that you can search for influencers using any imaginable keyword. You can drill down your searches to very long-tail terms.  Upfluence originally grew out of two tools, Façade – the search engine, and Publishr – an influencer marketplace. The marketplace is now gone, but many of its management tools remain. This means that Upfleucenr offers a range of tools to ease the complications of finding and making contact with influencers as well as keeping track of the success of campaigns.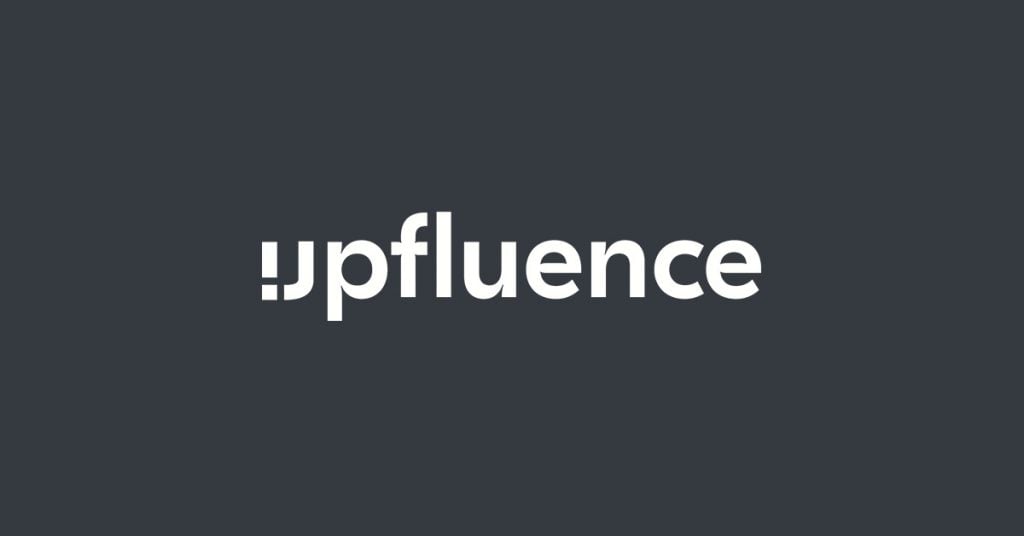 Services Offered: Search/Discovery, Automated Recruiting, Influencer Lifecycle Management, Influencer Relationship Management, Team Collaboration Tools, Content Review, Campaign Management, Campaign Reporting, Influencer Analysis, Payment Processing, Social Listening,
Channels: Instagram, Youtube, Facebook, Twitch, Tiktok, Twitter, Pinterest, Blogs
---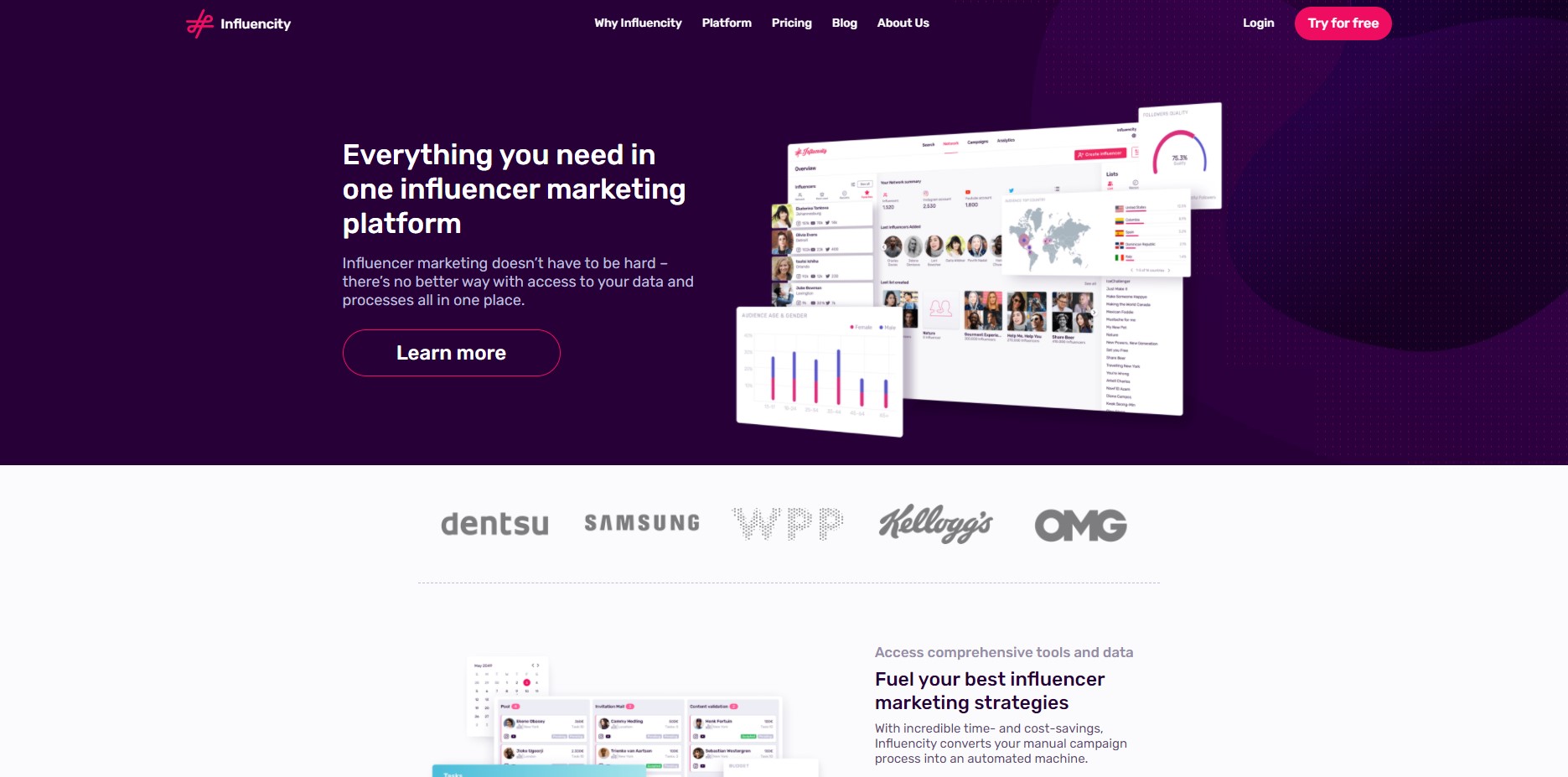 Influencity now offers services to brands wanting to work with influencers on Instagram, YouTube, and TikTok. This is despite the company beginning in 2014 by connecting brands with some of the most influential people on Twitter, about 100 influencers. This indicates the massive change in the relative performances of the various social platforms over the last few years. Now Instagram is the primary social channel for brands to be seen, closely followed by the two video platforms.
Discovery with Influencity relies on Instagram data now. There are currently over 70 million Instagram accounts indexed within the platform. It includes an incredible amount of data on each of these accounts.
Like many SaaS platforms, Influencity offers multiple levels of subscription that run the gamut of features. In addition to four fixed plans, customers can personalize their own plan by selecting features that suit them and creating a Custom Bundle.
Running through your search filters, you'll see an abundance of options, from basic demographics like gender, age, and location, through to psychographics like interests and brand affinities. There are over 100,000 ways to combine filters. You can also do a lookalike search. Once you can identify one perfect influencer, you can let the platform do the rest for you.
You can also see in-depth data relating to your campaigns. Influencity gives you a clear picture of the kinds of audiences that your influencers reached and how well that audience received the posts your influencers made on your behalf. This helps future-proof your next wave of promotions.
---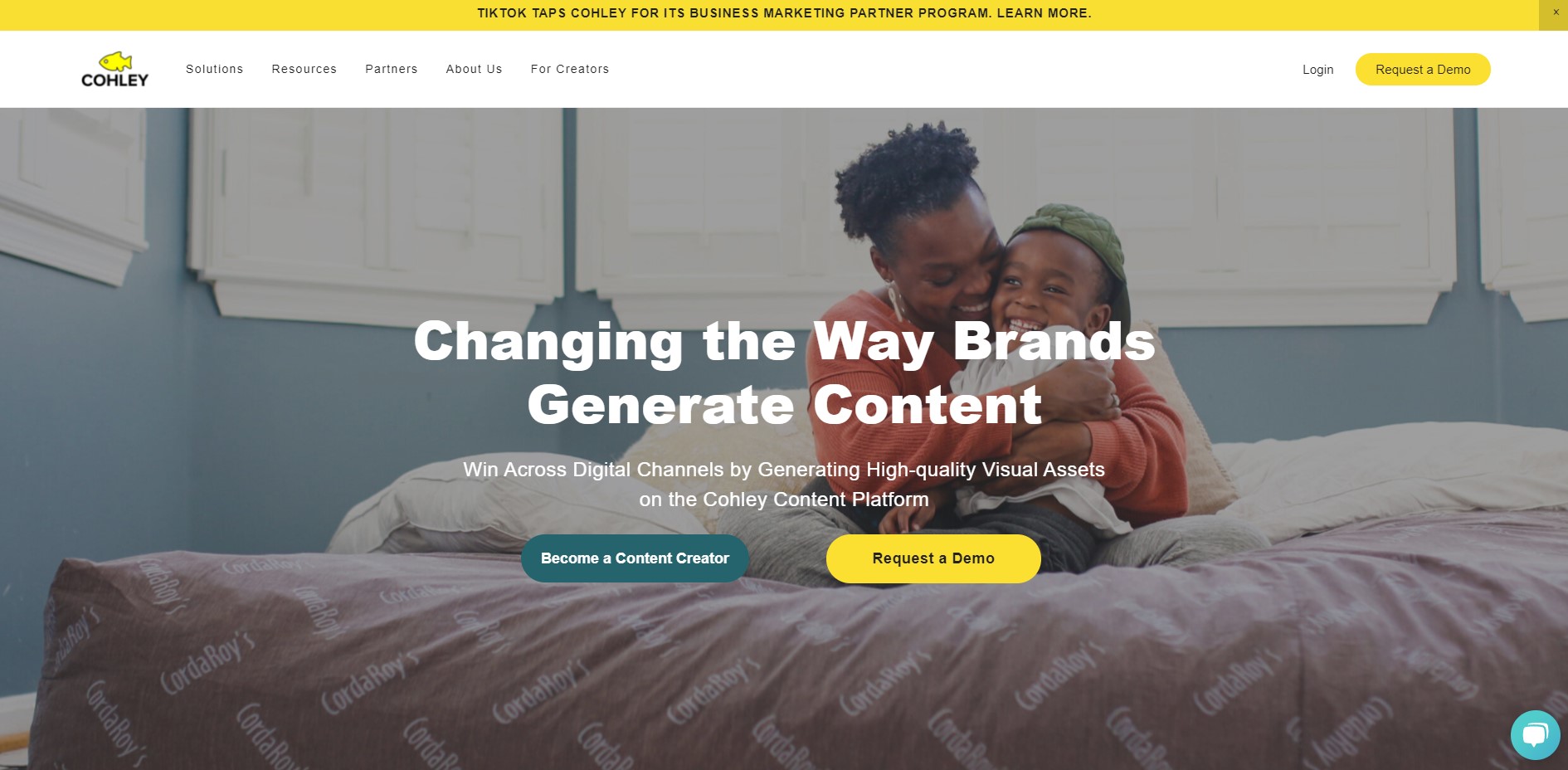 Cohley sees content as being equally important to the influencers, recognizing they are mutually exclusive assets in a marketer's toolbox. Not every talented content creator has influence, and not every influencer makes great content.
Cohley connects brands with professionals, photographers, and videographers, both those talented but only starting to gain attention and those who people consider full-on influencers. In all cases, content is the key to success.
Brands retain licensed rights to content, and they can use and re-use their greatest hits across all their marketing channels, refining their use along the way to be more and more effective.
Cohley doesn't make its pricing public as they assess each potential customer's needs, devising a customized solution to help them achieve specific goals. Their team helps orient you on the platform and onboards you into your first campaign.
You can look for up-and-coming influencers to create authentic User Generated Content, ideal for social campaigns or visual assets you can use for websites. You collect this content in a content library, organized like a familiar file manager, with each campaign's content in its own folder.
Cohley integrates with Shopify and BigCommerce to streamline the shipping and fulfillment process when sending products to an influencer. If you require influencers to write a product review as you'd see on Amazon, you can get them to submit them to Cohley, which then propagates them out to the associated product page on Yotpo or PowerReviews.
---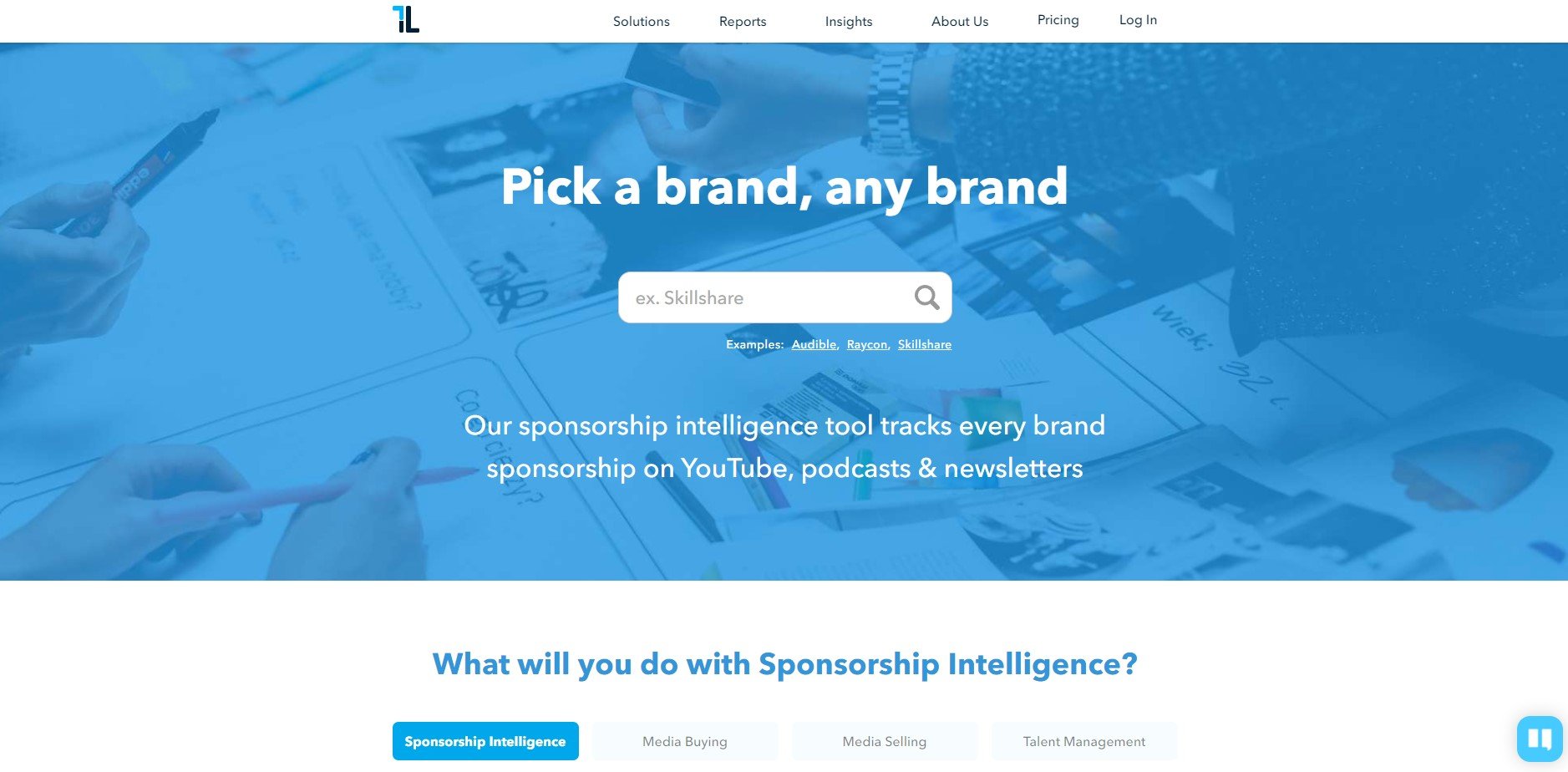 Thoughtleaders refers to what they do as "Sponsorship Intelligence." They help brands find all the influencers they like, and creators gain a holistic understanding of what a brand is looking for.
Although they don't support sponsorships directly on Instagram, their sponsorship intelligence tool tracks brand sponsorship in newsletters, as well as YouTube and Podcasts, and many Instagrammers share images and other content with newsletters (and indeed video highlights from their YouTube channels.)
The site consistently calls its influencers "thought leaders." However, thought leaders are not just influential people. They can also be publications or other entities that behave like a thought leader.
You can search for content with any combination of things like keywords, categories, publish date, brands, and influencers, to name a few. You can filter your search down to only "likely sponsored" posts, and the platform shows very clearly why a particular piece of content ended up in that list. Thoughtleaders provides data on any brands it finds sponsoring content. This includes data on their social presence and how many influencers they've worked with. 
If you're the brand in question, you'll get a fresh view of your marketing. If you're a competitor, you can see what you're up against. If you're an influencer, you can find information you can leverage for future collaborations.
---
CEO Jesse Leimgruber and CMO Misha Talavera first pitched the idea of NeoReach while studying at Stanford University. They proposed NeoReach as a way to connect brands with social media influencers. The idea proved popular, encouraging Leimgruber and Talavera to develop their vision. They were able to generate $1.5 million of seed funding by 2014, turning NeoReach into a reality.
Brands who wish to use NeoReach pay an annual fee, which is customized to each firm's needs. NeoReach targets large companies with sizeable marketing departments.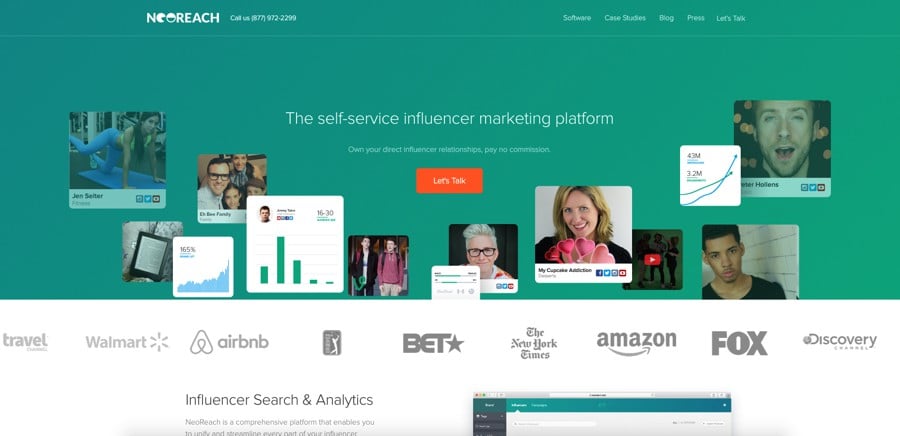 NeoReach finds its influencers by using a sophisticated algorithm that mines the social web for relevant data. As a result, influencers do not sign up for the service.  But anybody who is a genuinely influential will most likely find they have been included in the 3 million people in NeoReach's database.
One of NeoReach's main focuses is on providing an extensive array of data. You can search for posts relating to a selected keyword, and NeoReach will find you the influencers who often have online conversations about that keyword. You can refine your research on a wide range of factors, including demographic and psychographic features.
NeoReach uses AI to determine what will be the best results for you. It learns from your searches, so the more you use the platform, the better you will find its suggestions.
Once you have found suitable influencers, you can use NeoReach's campaign management tools to assist you to manage your campaigns.
NeoReach has developed their own method of calculating your ROI. They call it Influencer Media Value (IMV), and it aims to show the real value of your influencer marketing campaigns.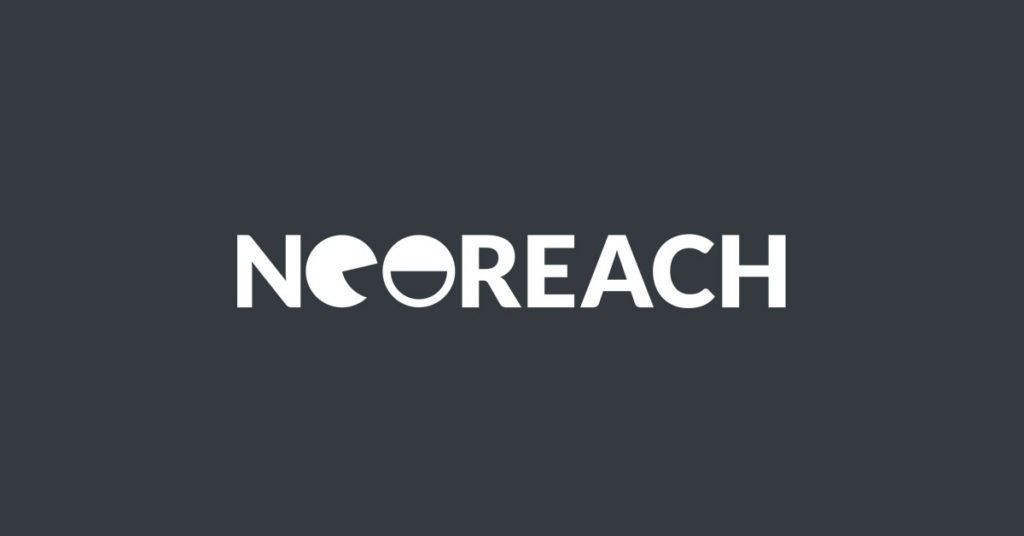 Services Offered: Campaign Management, Search/Discovery, Influencer Relationship Management, Team Collaboration Tools, Campaign Reporting, Influencer Analysis, Audience Analysis, Forms and Compliance,
Channels: Facebook, Twitter, Instagram, YouTube, Pinterest, Snapchat
---
Hypr was established on the assumption that if you are investing in influencers to create and distribute content for you, you should know as much as possible about their target audiences.
It is targeted at larger businesses and offers four pricing levels – Standard, Pro, Platinum, and Enterprise. The tiers provide different limits on monthly searches (unlimited for Pro upwards), lists, access to contact information, exports, and user logins.
Hypr has built a database of 10 million influencers and has full demographic data for their followers. They call themselves the Google of influencer search engines. At Pro level and higher, you can do searches using a wide range of keywords or demographic factors.
Once you have done your search, Hypr provides tracking cards for each potential influencer. They give detailed information about the influencers and their followers. This makes it easy to find potential influencers whose followers are a match for your target market.
You can create various lists to help with your influencer selection.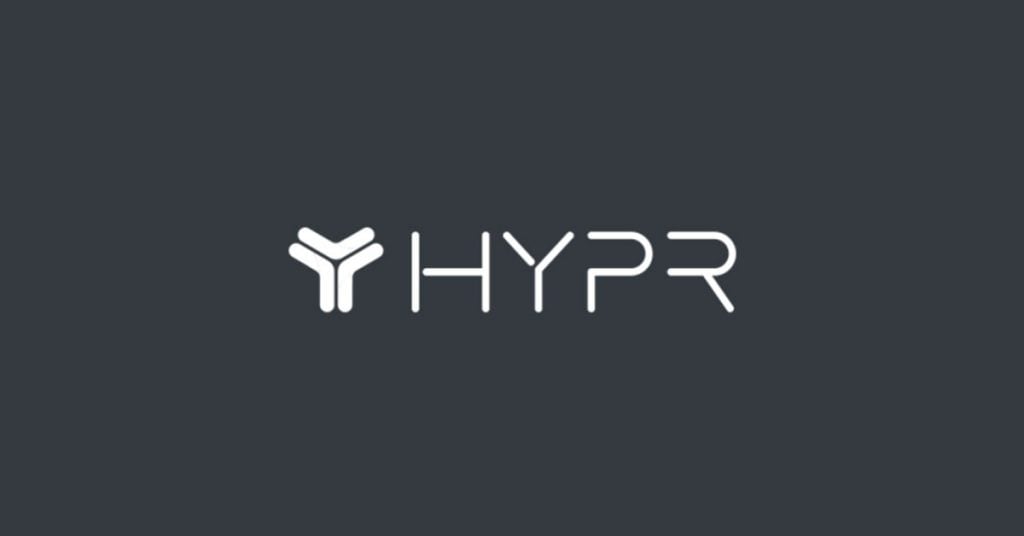 Services Offered: Influencer Search & Discovery, Influencer Outreach and Engagement, Performance Tracking with Audience Demographics and Conversion Attribution, Global Influencer Payment, Fraud Detection and Audience Health,
Channels: Instagram, Facebook, Twitter, YouTube, Pinterest
---
Julius grew out of Thuzio, a web-based talent agency for athletics wanting to increase their sources of income. It is now a fully-features influencer discovery and campaign management platform – for all kinds of influencers.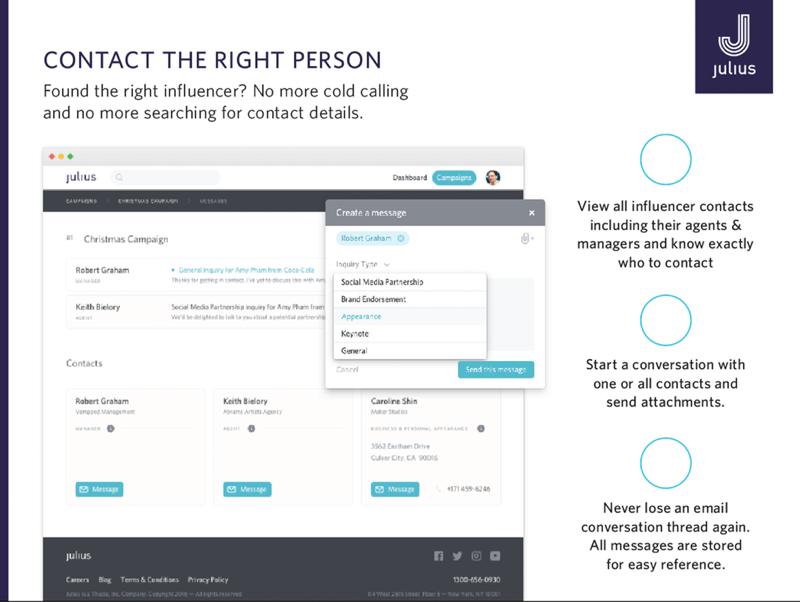 Julius has over 50,000 influencers in its database. It does not just rely on an algorithm but uses humans to research the credibility of each potential influencer. It has an opt-in database, which means that everybody you find has expressed an interest in participating in influencers marketing. Much of the influencers are represented by talent agencies who have partnered with Julius.
Julius features a clean interface that is easy to use and understand. Despite its apparent simplicity, Julius has an in-depth search engine, and you can refine your search criteria in many ways. There are more than 50 data points you can use to modify your search criteria.
You can compare up to five influencers at a time to help you determine which is the best fit for your target market.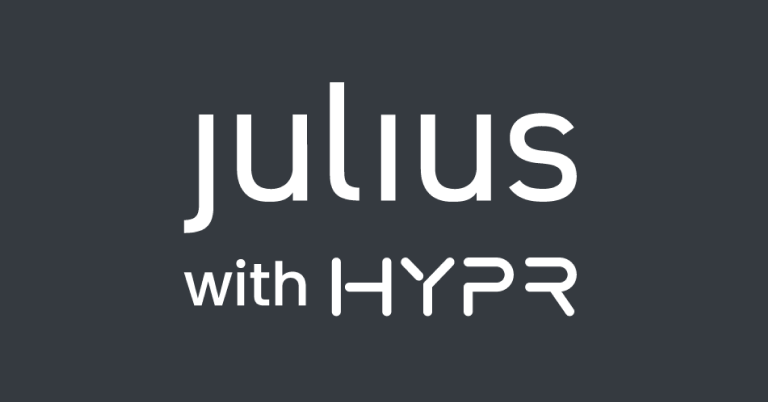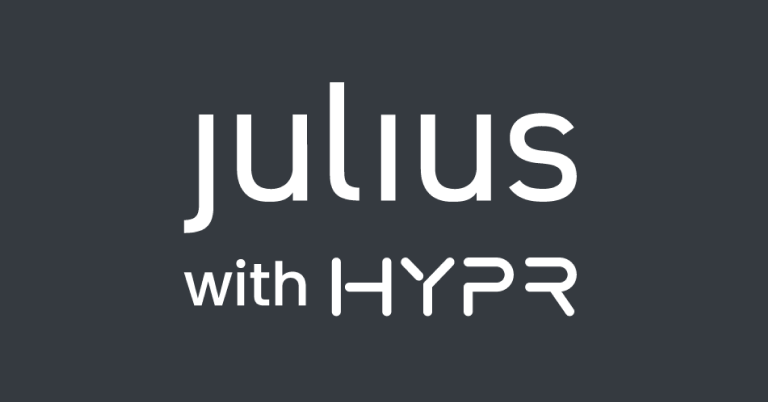 Services Offered: Search/Discovery, Influencer Relationship Management, Campaign Management, Campaign Reporting, Influencer Analysis, Audience Analysis, Forms/Compliance,
Channels: Instagram, Facebook, Twitter, YouTube, Pinterest, Twitch, TikTok, Snapchat
---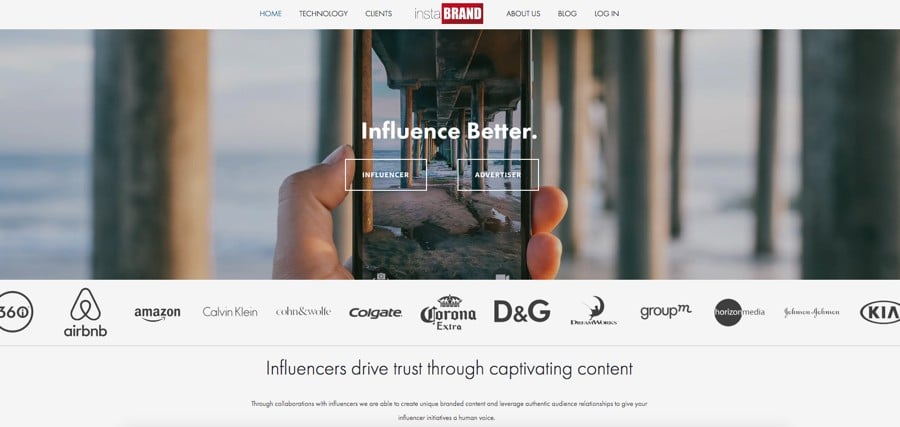 Open Influence (formerly InstaBrand) is more of a creative agency, acting as a kind of middleman between brands and influencers. This makes a lot of sense, given their stated goal of "making ads more human." Open Influence clients can use their "Intermix" search engine to find collaborators, which contextualises an influencer beyond the number of followers she has and the verticals she aligns with. Their database of over 100,000 influencers cross references keywords and post performance, analyses engagement rates and locations—it's a big data engine for finding the perfect marketing match. By drilling down into each profile, Intermix is able to reveal influencers on any platform clients want to hit while filtering for other criteria.
This is not a self-service company by any means, though, so if you're looking to just find your talent and then execute on campaigns, Instabrand won't be a good fit. On the other hand, if you want a company that's going to manage your marketing with a human touch, with a core of technology that both defines and reports on the campaigns, Instabrand has plenty going for it. They describe themselves as a "mobile-first influencer company," and as such place greater emphasis on mobile-only platforms like Instagram and Snapchat.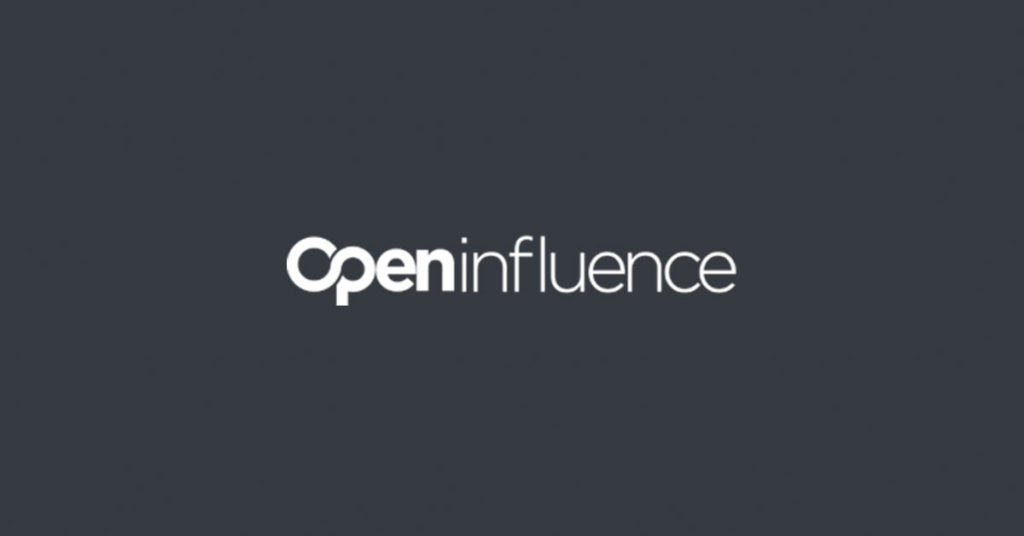 Services Offered: Search/Discovery, Content Review, Content Library, Campaign Management, Campaign Reporting, Influencer Analysis, Audience Analysis, Visual Discovery,
Channels: Instagram, Facebook, Twitter, YouTube, Pinterest, Snapchat, Blogs
---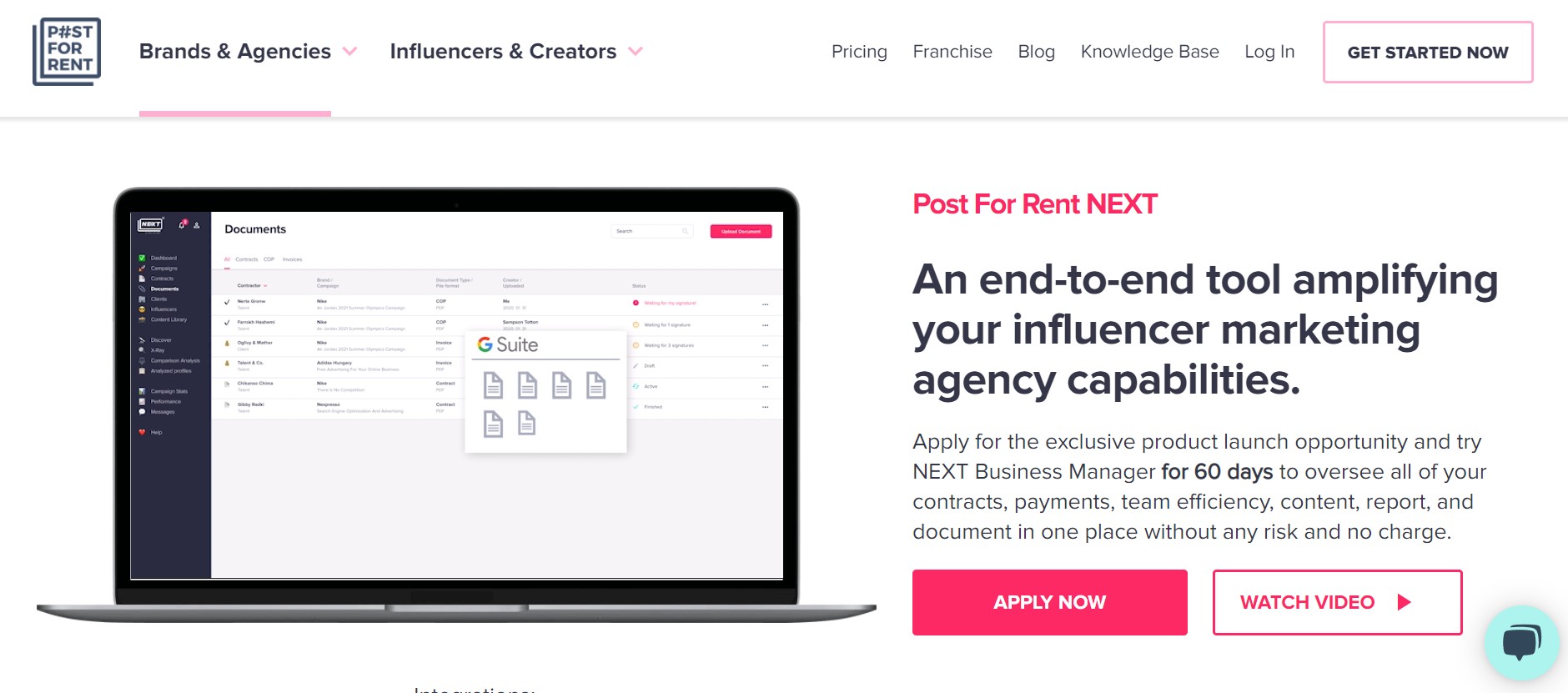 In 2016, influencer marketing was in its infancy – even the influencer Marketing Hub didn't post its first article until near the end of that year. During that time, Post for Rent began as an influencer marketing platform and agency. More recently, Post for Rent's team pondered about what they should do next. The answer was to set up another platform with a different target market, which they aptly named NEXT Business Manager.
They describe NEXT as being an end-to-end tool amplifying your influencer marketing agency capabilities. NEXT is a scaled-up influencer platform designed to be a game-changer for agencies and companies running marketing campaigns. It places real emphasis on streamlining the administrative work required for running influencer campaigns. Post for Rent's team noticed how with Covid disrupting the way we work, communicate and manage, administrative work has turned into more of a nightmare than it used to be. So they designed NEXT to simplify this process.
NEXT is a campaign and content management tool that provides your team with seamless communication, allowing processes to run continuously without missing any steps. In addition, you can run multiple campaigns for multiple clients under one account.
Thanks to NEXT's integration with Google Workspace, your contracts, invoices, and all other documents appear in your G-suite.
Another practical NEXT integration is with DocuSign. This means you can easily set up contracts within NEXT, sign them, and keep them in one place. The platform comes with ready-to-use, easily customizable contracts, automated company signatures, and much more. All documents in NEXT are easily searchable, making it easy to find documents when you need them.
NEXT helps you keep track of much data relevant to your campaigns. This includes data about all your team members' current and past campaigns, for example, the number of influencers each team member has worked with, the number of successful campaigns they've delivered, the revenue these campaigns generated, and more.
---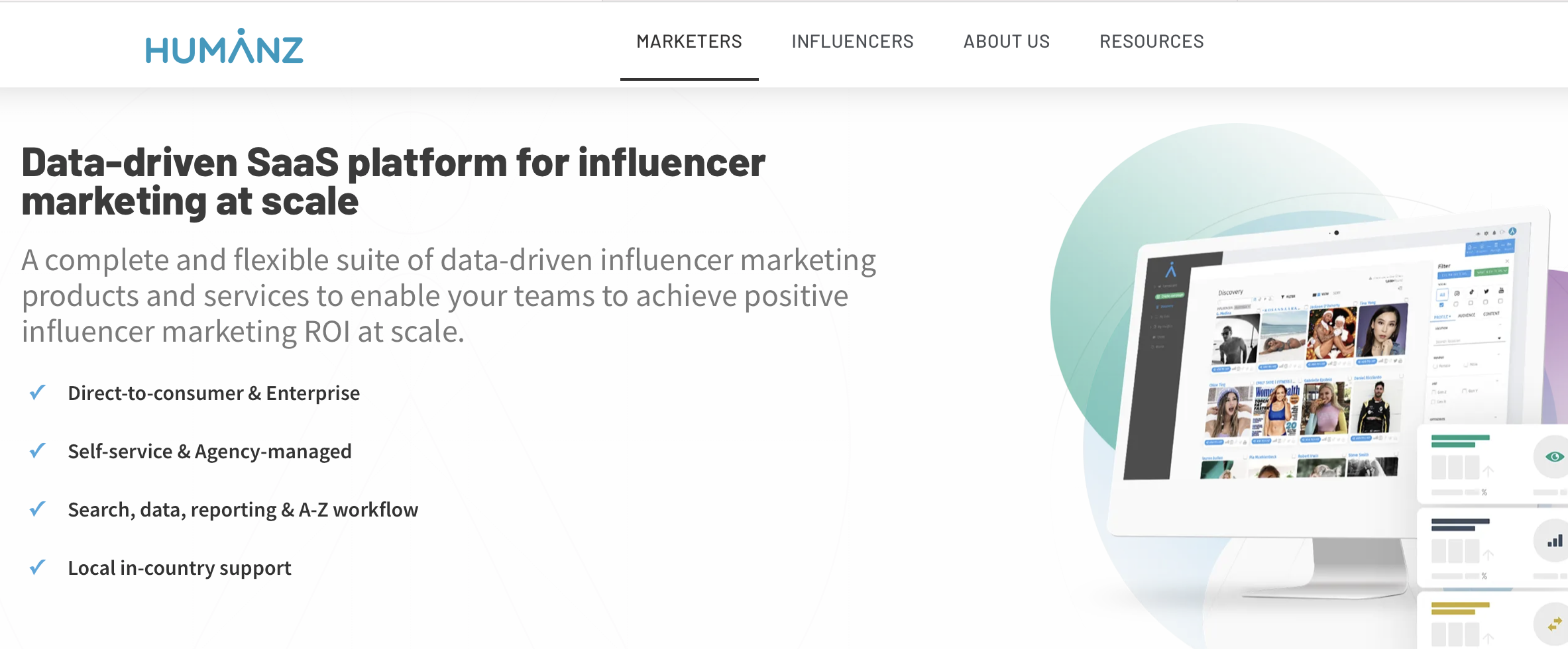 Humanz describes itself as an AI-powered influencer marketing platform that's been designed to bring back trust between brands, content creators, and their target audiences. Its goal is to tackle influencer fatigue, while at the same time measure real ROI and, ultimately, offer a seamless end-to-end experience for brands as well as influencers. Put more simply, it wants to remind marketers and audiences that influencers are people – not just revenue-generating bots.
The platform uses an algorithm that analyzes public profiles by specifically looking at performance stats, text, images, videos, and followers. Armed with this info, you get to know the actual person behind the account and their followers. Thanks to this tech, not only is the influencer marketing process simplified but brands get a real picture of the influencer. It also helps them to identify which followers might be real but aren't active to get a more accurate understanding of an influencer's potential reach.      
While Humanz is still very new to the scene, it has already been described by influencers, agencies, and marketers as the most comprehensive and user-centered influencer marketing platform. Where other platforms are more appealing to brands than influencers, Humanz has created a platform that's equally appealing to both parties. 
The interface is dynamic and can deliver well-researched results quickly. Every feature is well thought out to deliver all the standard information, but in context. In short, they've set new standards with regards to features as well as user experience. All in all, it's best for medium to large brands as well as agencies.
---
Doveltale is still a new influencer discovery platform, barely a year old. Founders, Mike Schmidt and Navied Shoushtarian, were concerned that most of the influencers platforms at the time catered to large businesses and were outside an affordable price range for small businesses.
Schmidt and Shoushtarian initially saw Dovetale as an all-in-one answer for influencer marketing, but they have since deemphasized campaign management. You will find that you have limited campaign management options within Dovetale once you have got your campaign underway.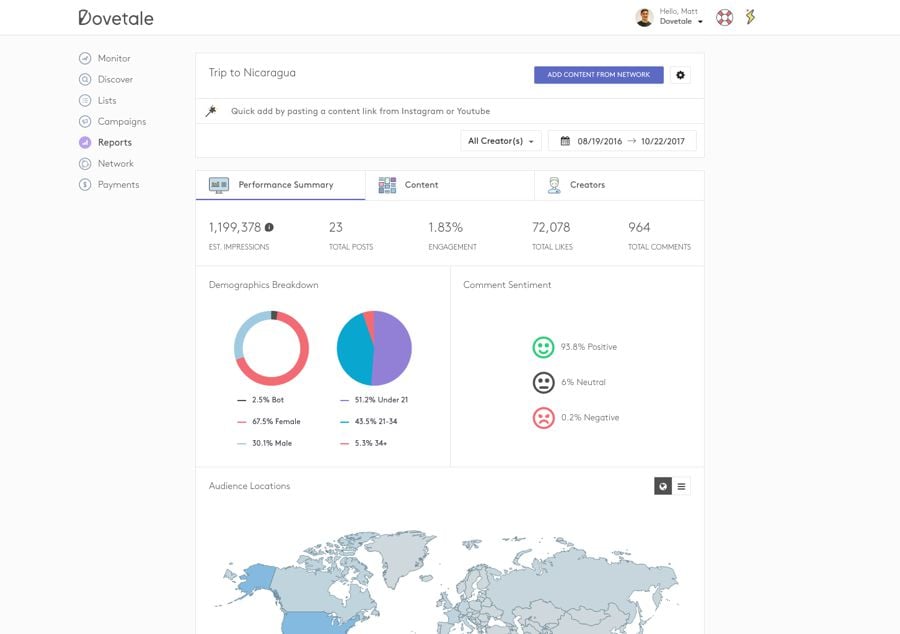 Dovetale encourages you to start your campaigns by researching your own audience. It provides detailed data for your social accounts, Instagram in particular. You can monitor follower growth, engagement, gender, locations, and age. You can make a similar analysis of your competitors' social accounts.
This research can help you formulate your influencer marketing strategy.
Dovedale also includes The Monitor, a social listening feature, which helps you identify influencers who identify with your (and your competitors') posts.
The platform has a real strength with analytics. In addition, you can connect to Domo which give even further opportunities for data analysis.
You can do two levels of influencer search. A standard search allows you to search the Dovedale database for suitable influencers. If you make an Advanced Search, though, you can search for influencers outside Dovedale. It even includes an image recognition feature. You can search images both by content and by aesthetic – making it easier to find influencers who match your style.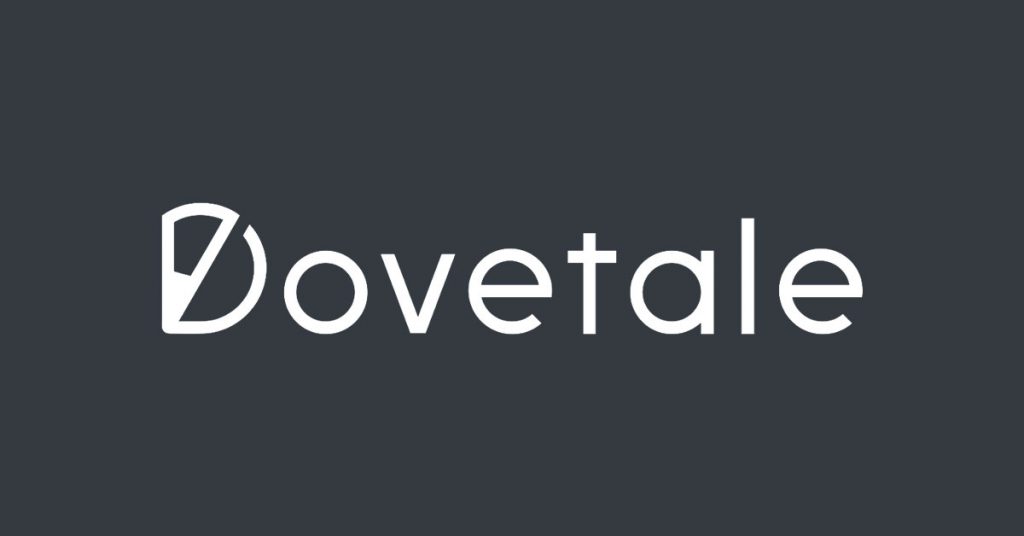 Services Offered: Search/Discovery, Automated Recruiting, Influencer Marketplace, Content Review, Content Library, Campaign Management, Campaign Reporting, Influencer Analysis, Audience Analysis, E-commerce Tools, Product/Gifting Tools, Payment Processing,
Channels: Instagram, Twitter, Facebook, YouTube, Twitch, TikTok
---
Scrunch was founded by Danielle Lewis in late 2015. Since then it has improved its product offering. It enjoys an arrangement with News Corp to offer influencer services for luxury brands.
Unlike many of the other platforms profiled here, Scrunch uses a freemium pricing policy. You can manage small campaigns on its free plan, although most users will prefer the Pro ($99 / month) or Power ($299/month) price levels with more options and fewer limitations. Even the higher level plans are cheaper than some of the opposition's lowest prices.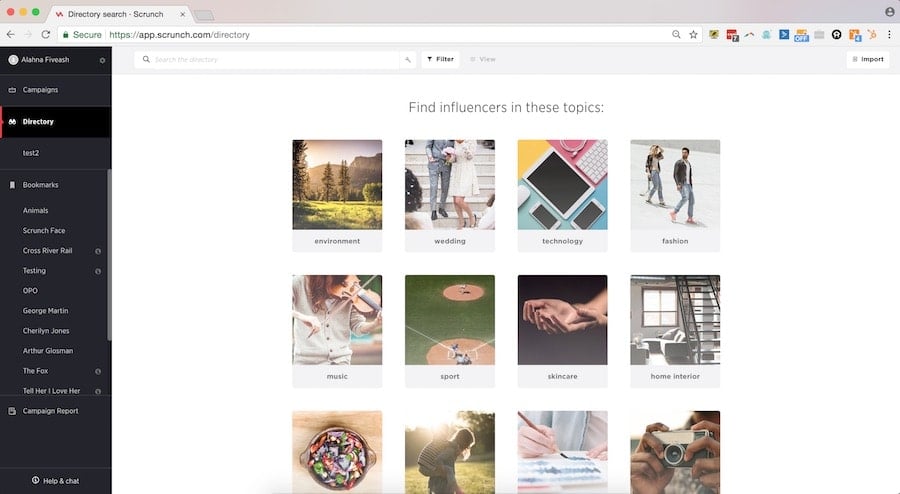 This makes Scrunch ideal for small businesses. Yet, possibly due to the alliance with News Corp, the platform is also popular with well-known brands and big-name clients, such as Mini and Vogue.
Scrunch has a database of 20 million influencers, so you are likely to find influencers, no matter what niche you operate in. With such an extensive database you may have to look closely at your results to find the best influencers for you.
Scrunch has useful campaign management tools. They have integrated the discovery tool into the Discovery section, making it easier to shortlist potential influencers. You can take notes on influencers and add them to their profiles.
The reporting tools depend on your subscription level but are sophisticated. A Power level subscription or above gives access to tools robust enough to impress even the most significant clients.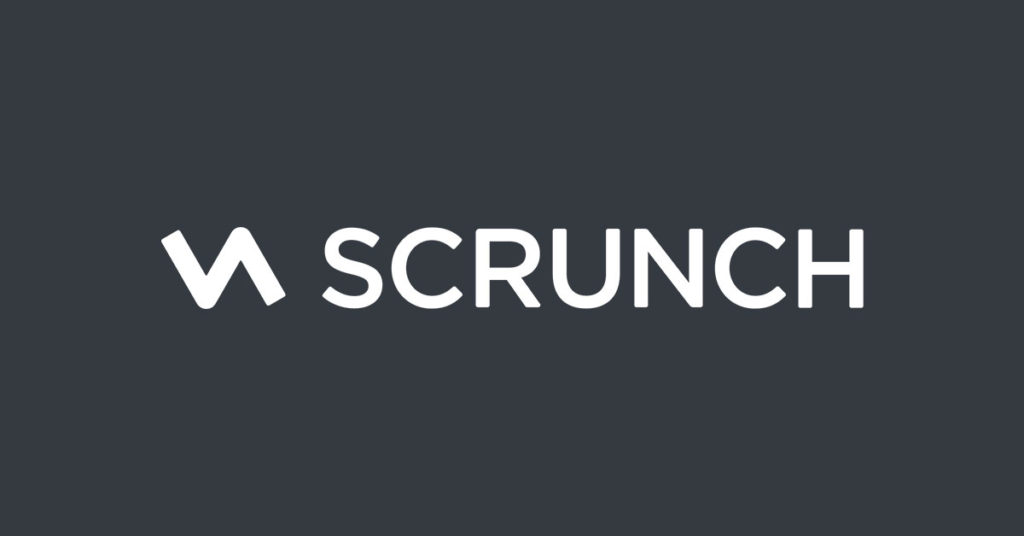 Services Offered: Search/Discovery, Influencer Marketplace, Campaign Management, Campaign Reporting, Influencer Analysis, Audience Analysis, Payment Processing,
Channels: Facebook, Instagram, Twitter, YouTube, Blogs
---
Co-founders, Mat Stigzelius and Solberg Auðunssons, began Takumi in early 2015 in recognition that there was a gap in the market. Businesses could easily find and make contact with celebrities (if they had deep enough pockets). At that time, though, there were not many tools available to help businesses find and make contact with micro-influencers.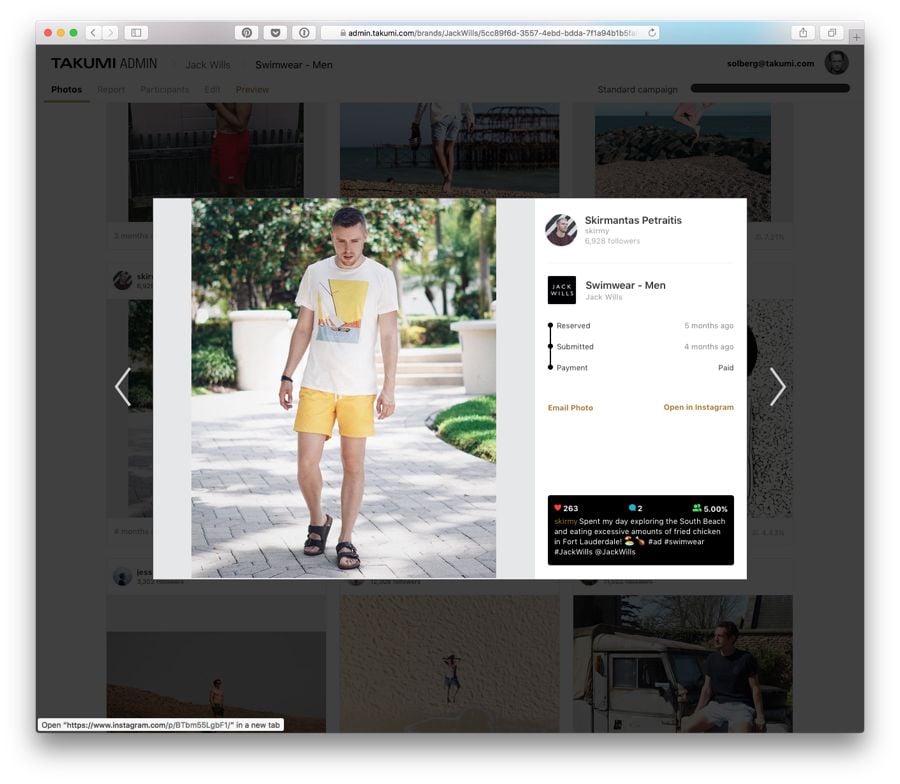 Takumi has developed an impressive customer base, with companies like Sony Music, Hilton, Procter & Gamble, and the BBC amongst their clients.
Takumi has built a database of thousands of vetted influencers who have opted into the platform. It uses human vetting to ensure that everyone in their database is a genuine influencer and undertakes real engagement. They also make sure that each influencer meets a minimum quality score for the content he posts. Takumi only wants to work with creators with style and vision. They also check that potential influencers are unlikely to embarrass any firm they work with. For instance one of Takumi's selection criteria is that an influencer isn't "ethically challenged."
A brand begins a campaign by defining it – deciding on its objective, timeline, budget, and other vital details. Takumi uses its algorithm to recommend the best influencers for the job. Influencers are notified of new campaigns and can indicate whether they are interested in being involved.
Suitable influencers then create appropriate content for the campaign. They are only paid if their content meets the guidelines. The content goes live according to a campaign's timeline.
Services Offered: Influencer Marketplace, Content Library, Campaign Reporting, Payment Processing,
Channels: Instagram
---
Tapinfluence is one of the more established influencer marketing platforms and has been around since 2013. It grew out of a tool designed to connect bloggers, known as Blog Frog. The company changed course because they noticed the reduced effectiveness of banner ads and they wanted to be part of a marketing company that could show clients how to receive a positive ROI on their spending.
Tapinfluence can now claim an impressive roster of clients, including Whole Foods, Seiko, Canon, Volvo, and Target. They do target their product more at larger businesses with sizeable marketing budgets.
Tapinfluence includes all four of the main features of an influencer platform: influencer search, influencer outreach, analytics and campaign management.
Its most celebrated area of strength is its set of campaign management tools. They are amongst the most comprehensive tools of ay influencer marketing platform. Tapinfluence allows firms to scale their influencer marketing with ease. No matter how many influencers you choose to work alongside, Tapinfluence will help make the process manageable.
Tapinfluence offers an additional service, TapFire. This assists you to amplify content to reach audiences with a minimal amount of work.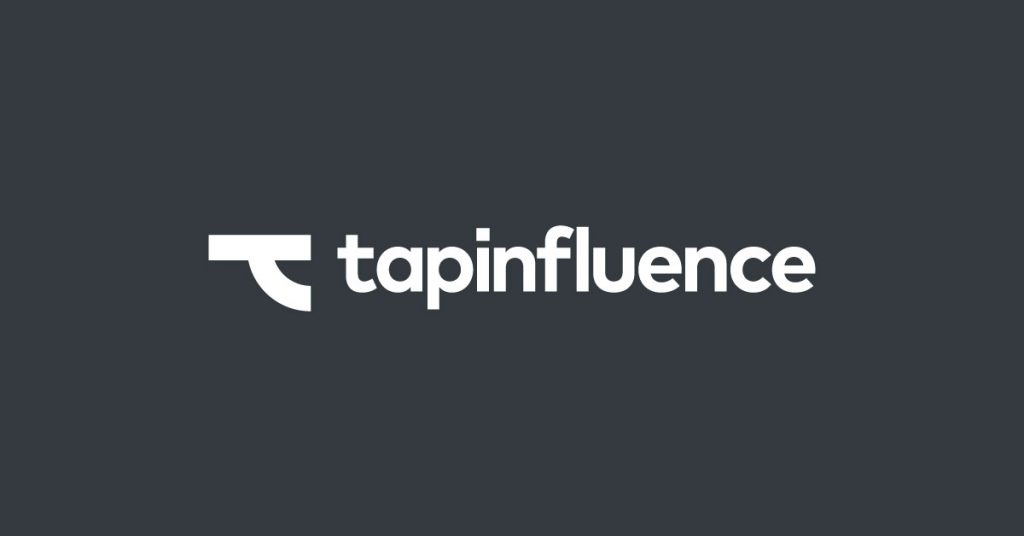 Services Offered: Campaign Management, Search/Discovery, Influencer Relationship Management, Team Collaboration Tools, Content Review, Content Library, Campaign Reporting, Influencer Analysis, Audience Analysis, White Label Reporting, Forms and Compliance, Fake Follower/Fraud Detection, Payment Processing, Influencer Content Amplification,
Channels: Facebook, Twitter, Instagram, Youtube, Pinterest, Blogs
---
Onalytica was established in 2009, making it one of the earliest companies to involve itself in influencer marketing.
They use a combined human/hybrid approach for influencer identification. They use a proprietary algorithm to scrape relevant details from 200 billion social posts per year which they then index into their database. However, they use a human team to scrutinize these results, ensuring that users only see relevant results.
Onalytica has curated lists of influencers for popular categories, such as Fashion, Food, and Lifestyle. Everyone on these lists has been vetted (by a human) to ensure they are a good fit for the list. Searchers can also search for influencers by platform, demographics, or content. You can upload your content to Onalytica, and their software will do its best to find influencers who have written material in a similar voice to your own.
Onalytica provides you with a vast amount of data relating to potential influencers, including a wide range of charts and graphs.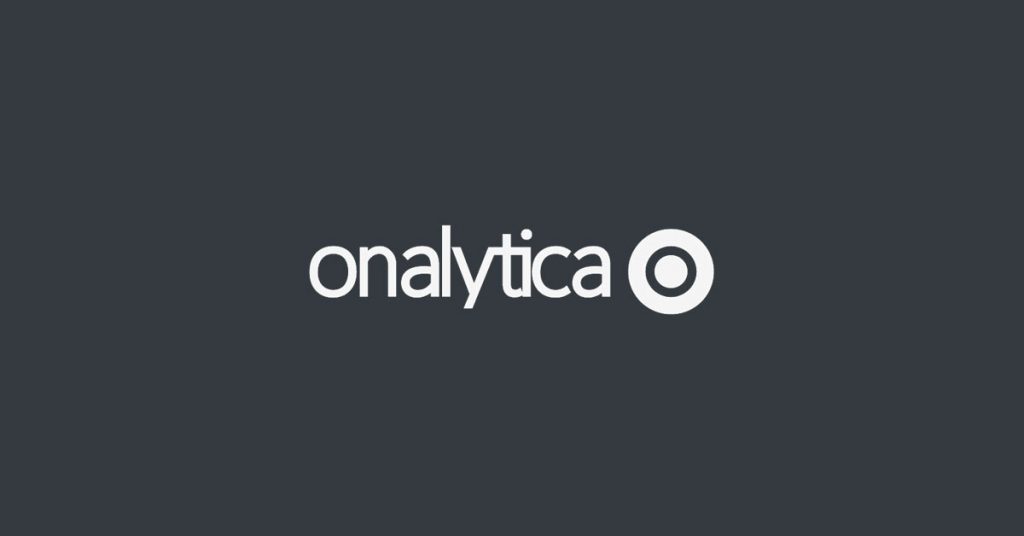 Services Offered: Search/Discovery, Influencer Relationship Management, Influencer Analysis, Social Listening,
Channels: Facebook, Twitter, Instagram, LinkedIn, Wordpress, Blogs
---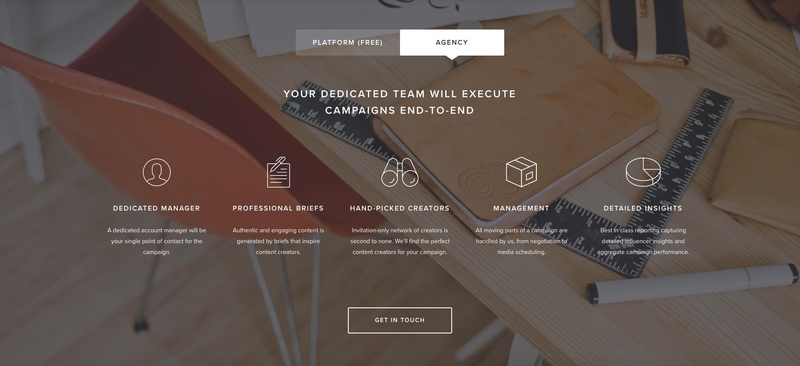 An agency that sits on top of a platform, Hypetap gives brands the best of both worlds—one world at a time. By that, we mean that a company can choose to do their own marketing and have access to the software platform, or choose to go through their agency and have the whole processed managed by Hypetap team.
The platform offers the kinds of tools you'd expect: data-driven lists of influencers who aren't just sitting on a pile of followers, but are creative forces in their own right. In fact, the Hypetap talent pool is among the smallest we've seen—less than 2,000 influencers. But this shouldn't be seen as an obstacle. Hypetap's influencers are there by invitation only. Once they're in the system brands (or Hypetap's own agency) can easily search through available influencers without scrolling through page upon page of possible matches.
Another selling point for brands and influencers is the free access they get to the platform. There are no fees for creators to sign up; likewise for brands looking to skip the agency's help and work on their own. Brands post campaign briefs and describe their ideal target audience. From there they can search for influencers, or—just as likely—influencers will find them. Rates are negotiated, terms are set, content is created, campaigns are executed, and everyone wins. Including Hypetap, which takes a 10% cut of the deal. There's also a DRM component, where digital rights for any content are assigned at the execution of a campaign. This is especially important for Instagram content, as a stunning photo can have a much longer shelf life than a written piece.
---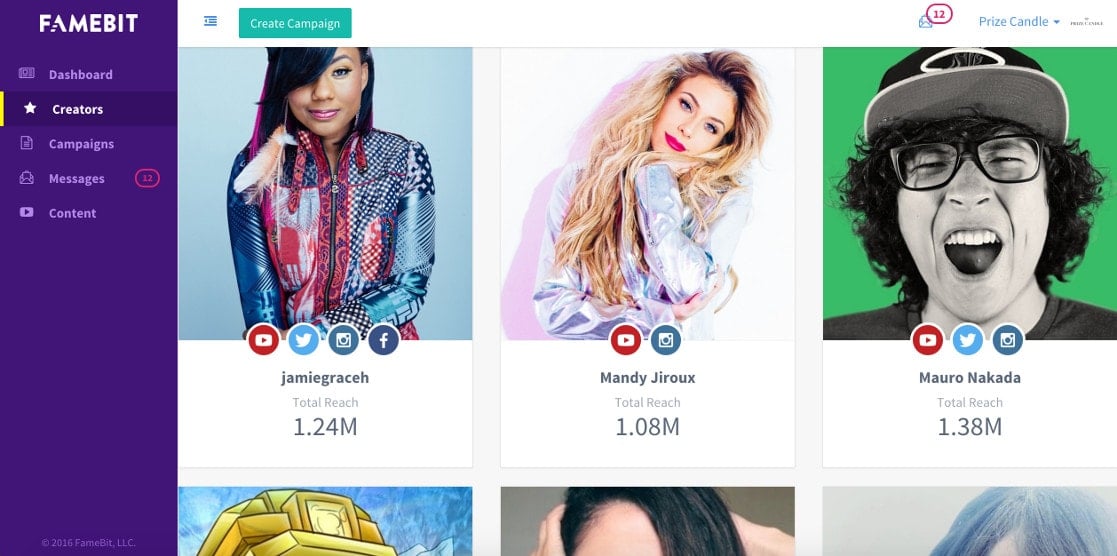 We've profiled this company before, but they deserve another mention here. Famebit is fairly no-frills in its offering: a basic platform where brands meet influencers and contract out the content they need created. Everything about the way Famebit markets itself, though, tells you everything you need to know about the platform. Their talent and focus skews young, as do the campaigns that are born on Famebit. Videos, comedy sketches, fashion photography, tutorials—brands looking to reach out to the younger, disposable-income-having audience that dominates Instagram are going to find great matches here.
[ebook title="How To Measure Influencer Marketing ROI" text="The Complete Brand Marketer's Guide" button="Get The Free eBook" img="https://influencermarketinghub.com/wp-content/uploads/2016/11/img_bg_2.jpg"]
Like Hypetap, there's no fee to join, and the platform serves a meeting ground for potential collaborators. Famebit is more open in who they let on to the platform—be prepared to search through a much larger pool than Hypetap is offering—but they've put such tremendous effort in styling their own brand to attract the right talent, it's not surprising they've got a happy roster of companies using their services. There's something to be said about a company that's clever enough to effectively market their own marketing platform, which makes Famebit definitely worth a look.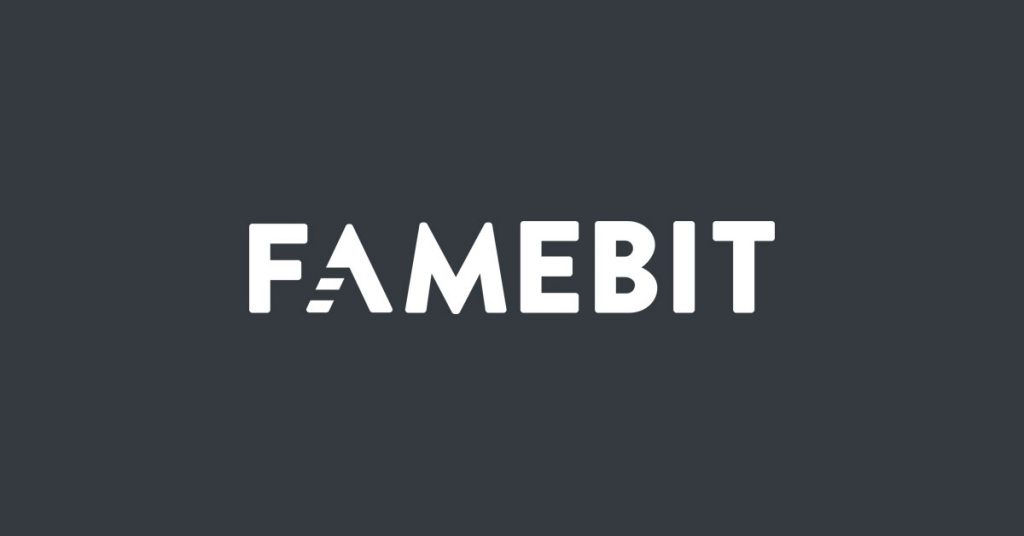 Services Offered: Influencer Marketplace,
Channels: Facebook, Tumblr, Twitter, YouTube
---

And speaking of companies that are effectively marketing their wares, Tribe rounds out our list as a must-see for companies looking for Instagram influencers. The website looks more like an Instagram feed of attractive young people having the time of their lives. But underneath that all is Tribe's clever use of a mobile app to bring engaging content to brands.
Tribe's users, the influencers, use an iOS app to generate content for brands that they love—most often a simple mention. If you've got 50,000 followers and are about to post a picture from Times Square in NYC: hold off. Post that picture to Tribe instead, and see if Coca-Cola will pay you for having their logo in the background, with a mention. That's the basic premise of Tribe. It's not focused on long term campaigns or promotions, but one-off shout-outs that brands can use to gain some attention. Of course, billboards in the background is just an example, and not a good one if you're an influencer looking to make cash. You'll do better when a product is featured in the post and it comes across as organic occurrence.
Right now, the app is focused on Australia, but as it picks up steam—especially with global brands—look for it to spread beyond the great Down Under.
---