In 2020, Amazon managed to generate an annual net revenue of almost $390 billion. This was an increase of more than $100 billion in just a single year. While it attracts a lot of sales, sellers face a lot of competition. This means that while it boasts a huge audience, you'll still need to focus on SEO best practices to help your products rank well.
However, here's the thing, Amazon uses its own unique algorithm. What works for Google won't get you the same results on Amazon. So, just because a digital marketing agency offers SEO services, it doesn't mean that they understand Amazon SEO. To help you narrow down your search, we've compiled this list of 20 agencies that offer Amazon SEO and other Amazon marketing services.
---
20 of the Best Amazon SEO Services to Drive More Sales:
---

Thrive is an award-winning online marketing agency that's currently headquartered in Texas. In 2021 alone, they've been identified by Clutch as one of the top digital marketing agencies as well as one of the top SEO companies. They've also made our Top 10 Agency 2021 list.
Established in 2005, they offer a wide range of services that include web design, internet marketing, content writing, email marketing, SEO, and Amazon marketing services. In fact, Neil Patel specifically recognized their Amazon marketing services and listed them as one of the top 3 Amazon marketing agencies in 2020.
Their team of Amazon experts can help you to create a custom strategy so that you can get the most ROI for your marketing. From Amazon storefront and branding to Amazon reporting and analytics, they offer it all. With regards to Amazon SEO services specifically, they can help you with the following:
Amazon seller setup

Amazon account audit

Competitor analysis

Keyword research

Optimized descriptions
---

Headquartered in Colorado Springs, SocialSEO is one of the top eCommerce SEO agencies and can help you to grow your presence on Amazon. Their award-winning digital marketing team can help you with a wide range of services that include:
Amazon SEO

Amazon product descriptions

Google analytics

Amazon ad campaigns

Rankings

Reviews and customer testimonials

Customer referrals
In 2020, UpCity ranked them as the number one digital marketing firm in America based on its rating system. In addition to Amazon SEO, they can also help you with other types of marketing-related services such as email marketing, graphic design, and content strategy.
---

As one of the top Amazon marketing agencies, Vertical Rail can help you with all things Amazon, including Amazon SEO. They were founded in 2008 by two experienced marketers in the eCommerce and digital marketing industries. After initially focusing on comparison shopping, they decided to concentrate on working with manufacturers. By partnering with some of the leading manufacturers and their internal operations teams, they learned more about the steps involved in preparing products for the Amazon marketplace. It's this intimate knowledge of product sourcing and pricing that help them to offer a variety of Amazon services.
Their services include:
Keyword research

Competitive analysis

Writing of product titles and descriptions

Recommendations for product images
Their case studies speak for themselves. For example, in just six months, they've helped a manufacturer of environmentally-friendly home appliances to increase its revenue by more than 170%.
---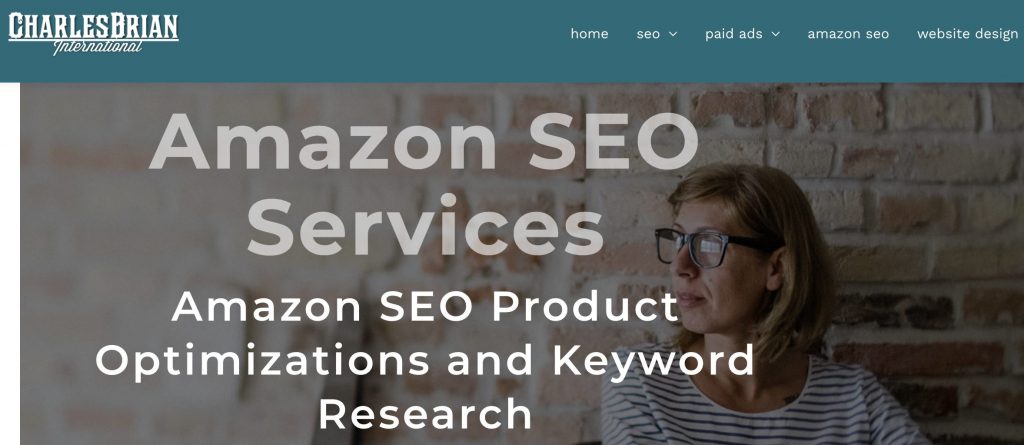 Charles Brian International is a full-service advertising and marketing agency that's based in New York City. They specialize in offering both creative and media services to small and medium-sized businesses.
In addition to web design and paid ads, they also offer Amazon SEO services. Their team of Amazon SEO experts use a selection of Amazon keyword tools to help you businesses with:
Keyword research

Tracking Amazon keyword rankings

Product page optimization

Competitive analysis

Professional copywriting
As they offer a comprehensive marketing strategy, they can also incorporate paid traffic to drive more traffic. From taking advantage of AdWords to Facebook Ads, they go beyond focusing on just Amazon SEO to help boost sales.
---

As a full-service product launch agency, Enventys Partners is a little bit different compared to the other agencies on our list. While they can help you with something as specific as Amazon SEO, they can also take care of all the aspects of product development, crowdfunding, and eCommerce marketing. They've, for example, helped to file 750+ patents and raised more than $300 by means of crowdfunding.
Founded two decades ago, their team of marketers, designers, and engineers can help to bring your product to life and grow on Amazon. For example, since they've helped Caiman Hat Clips to launch on Amazon, the business has managed to increase the number of units sold each month. As they offer a variety of services, they can help you with every stage of the Amazon journey. These include:
Competitor analysis

Keyword research

Sales strategy and planning

Custom reporting

Data analysis

Discount and retention strategies

Product listings

Paid advertising strategies
---

Since 1999, SunTect Data has offered a range of data marketing and support services that include complete Amazon marketplace management services. From Amazon photo editing to customer support, their team of SEO specialists and eCommerce professionals can help you to manage your Amazon store efficiently.
With regards to Amazon SEO specifically, their SEO team uses Amazon's product search algorithm to ensure that your product page is optimized and has standardized product data.
Their suite of Amazon services include:
Product description writing

Metadata writing

Product listing

Photo editing

Amazon marketing

Price research

Live chat and email support

Updating details regarding product availability and delivery status
---

Based in London, MintTwist is made up of a diverse group of digital experts. Their team has helped brands like the Royal College of Art and Masterchef with marketing and app development. As part of their marketing services, they also include Amazon SEO.
They start each Amazon campaign by auditing the account and listing and identifying errors. Armed with this data insight, they can then create a customized Amazon SEO strategy for you.
Their services include:
Setting up an Amazon seller account from scratch

Auditing existing Amazon accounts

Optimizing product listings

Monitoring of products

Keyword research

Competitor research

Reviewing competitors' prices

Identifying best prices for products

Amazon PPC promotion
One of the advantages of working with MintTwist is that they realize that Amazon product optimization doesn't work with a set-it-and-forget-it approach. Instead, they rely on ongoing keyword research to inform their monthly ongoing Amazon product optimization.
---

eStore Factory boasts an in-house team of more than 60 professionals that include Amazon specialists, content writers, and SEO experts. During their time in business, they've worked with over 1,200 sellers and helped to generate more than $140 million in sales. Their hard work has been recognized by the likes of Clutch and AppFutura that have included them among the top SEO and digital marketing agencies.
Not only do they offer SEO for Amazon products, but also for Amazon sellers. Their experienced consultants can help you with a long list of Amazon-related services that include:
Product listing optimization

PPC management

Customer support

Product research

Competitor analysis

Product keyword research
One of the major advantages of working with eStore Factory is that they view themselves as Amazon virtual assistants. This means that they can help you with all the activities required to be successful on Amazon.
---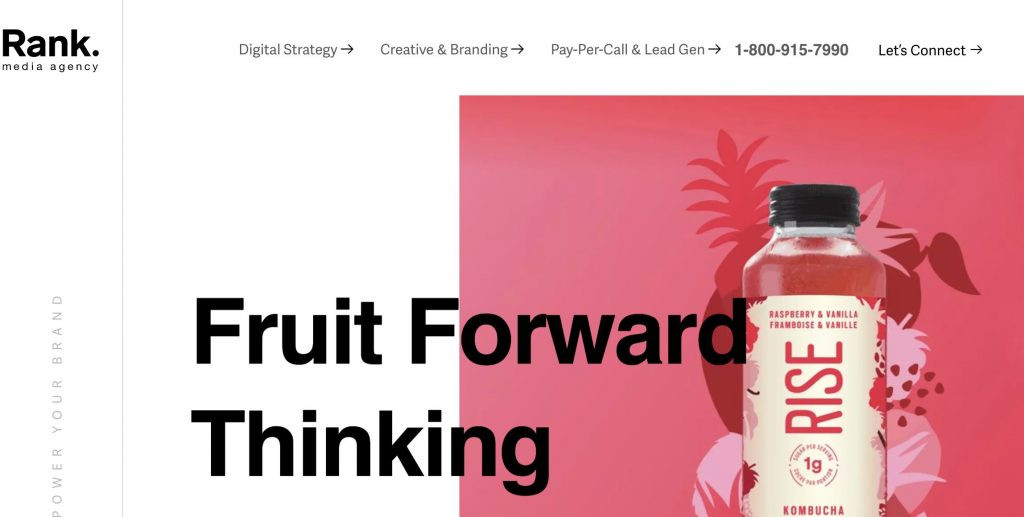 Having worked with big names like Mont Blanc, Sotheby's, and LG, Rank Media Agency is one of the leading digital marketing agencies in Montreal. They offer an impressive variety of services that include branding, photography, and digital strategy.
As part of their digital strategy services, they can help businesses with selling on Amazon. From boosting Amazon product rankings to PPC, their Amazon SEO services include:
Getting the word order of your product titles and descriptions correct

Headline search ads

Product display ads

Listing optimization

Actionable reporting
What's more, they can also help you with influencer marketing. Their team of Amazon marketing consultants can help you to reach out to the top Amazon influencers who'll be able to market your Amazon products.
---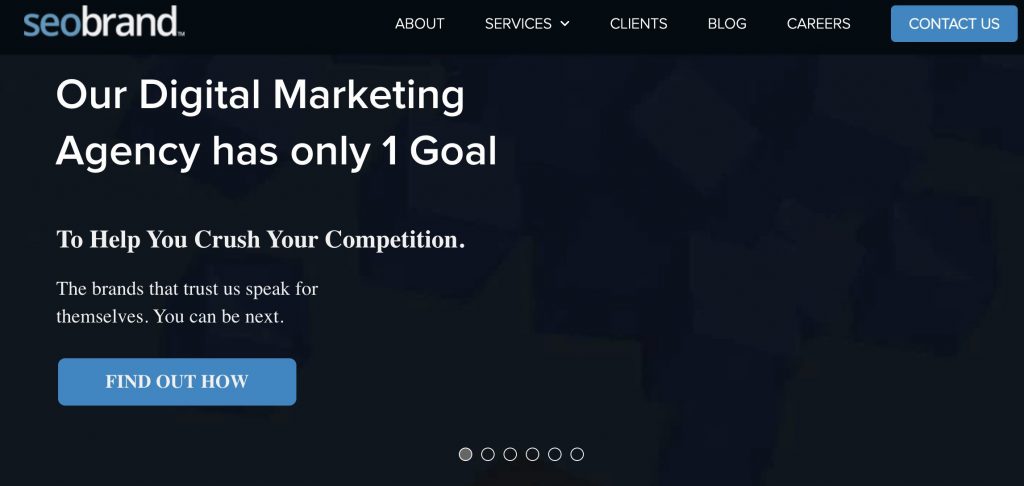 SEO Brand is a boutique full-service digital agency that can help you with every aspect of your online presence, irrespective of your business scope or size. Not only do they understand SEO, but also consumer behavior. It's this knowledge that informs their approach to help you get the right type of traffic to boost the chances of conversion.
Their Amazon store management services can ensure that your Amazon storefront boasts a positive image. Their Amazon SEO services combine several traditional SEO best practices and Amazon-specific practices, such as coupon strategies and PPC, to help your products enjoy higher placement in Amazon's search results.
Their services include:
Analytics

Identifying issues and areas for improvement

Custom copywriting

Enhancement of various on-page elements

Regular assessments
---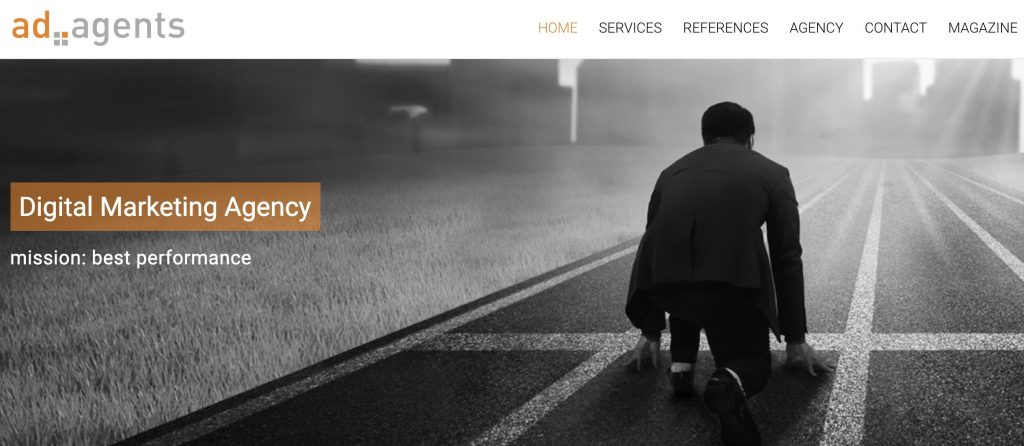 Founded in 2006, Ad Agents is an online and performance marketing agency that has worked with brands like Bridgestone. They offer a wide range of services that include affiliate marketing, data analytics, paid social and Amazon marketing.
As part of their Amazon marketing services, they can also help you specifically with Amazon SEO. They'll manage the entire Amazon marketplace optimization process for you so that your products can benefit from better visibility.
This includes:
Creating and maintaining high-quality content

Continuous monitoring of changes

Processing product data

Content optimization for keywords

Monitoring and reporting
One of the services that sets them apart from many of the other agencies on our list is that they can also help you to create A+ templates. In short, A+ pages are extra pages that you can use to share the different advantages of your key products.
---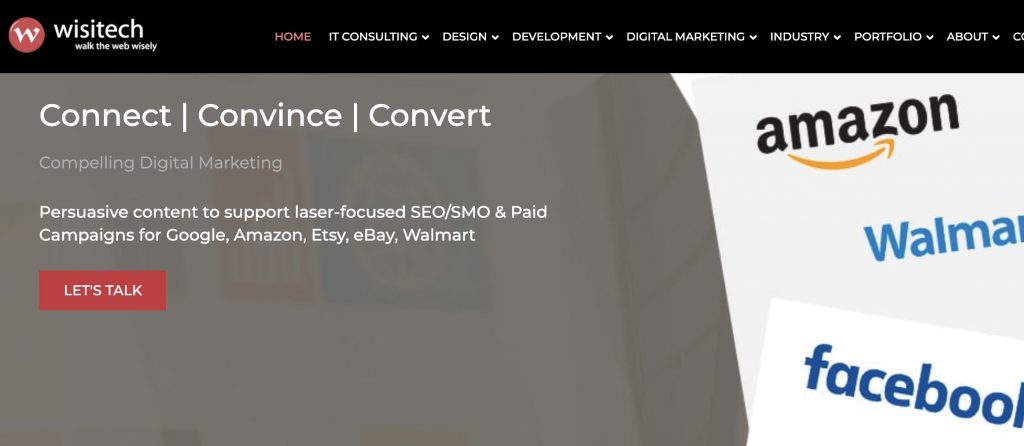 From startups to Fortune 500 companies, Wisitech has worked with brands like Lenovo, Castrol, and Samsung. They offer a wide range of digital marketing and design services and for the past 14 years they've also focused on offering Amazon marketing services. During this time, they've worked on more than 9,000 Amazon projects.
Their Amazon marketing services include:
Targeted paid campaigns (Amazon PPC management)

Regular reporting and analysis

Enhanced brand content

Amazon store optimization
With regards to Amazon SEO specifically, they can help you with:
Keyword research

Competitor research

Image optimization

Optimization of title and bullet points

Unique product descriptions
---

Titan Growth's team has deep roots in technical SEO. Not only do they rely on their marketing experts, but they also use TitanBOT, their patented search technology. Armed with this technology, they can predict how search engines will react to the changes that they implement.
With their Amazon marketing services, you can market to consumers who are currently searching for your specific product. This way, you can generate more sales and boost brand awareness as well as brand recognition.
What makes their approach to Amazon marketing unique is that they focus a lot on keywords. They'll use different types of keywords to expand your reach and audience on Amazon.
This includes:
Branded product keywords

Competitor branded keywords

Complementary product keywords

Out-of-category keywords
---

Nuanced Media is an Amazon marketing agency that can also help you with product optimization. In 2020, they were included by Clutch in its Top 1000 Companies list. As only the top 1% of companies globally can claim this recognition, it's kind of a big deal.
They'll help you to create a custom-designed Amazon marketing campaign so that you can connect better with your target audience. Plus, as the marketplace changes, they'll also adapt your strategy to ensure that you remain ahead of the competition.
Their services include:
Copy optimization

Technical optimization

Custom product images

Category analysis
---

From eCommerce businesses to retail brands to startups, Metric Theory has helped hundreds of clients with their digital marketing. Their team of experienced specialists offer a wide range of services that include search engine marketing (SEM), paid social, digital video, product feed management, and shopping ads.
As part of their additional services, they also include Amazon advertising. Whether you need help with MAP and reseller management or ad testing, they can help you to convert more organic demand.
Their services include:
Product listing optimization

Product discovery

Integrated reporting

eCommerce copywriting
For example, for HoMedics, they've helped to increase their Amazon traffic by more than 300%. What's more, their strategy managed to help them beat their revenue goals by a whopping 90%.
---

The team at Logical Media Group offers high-level Amazon skills to help you drive more sales. For example, for Fresh Wave, they managed to increase their shipped product sales by more than 280%.
Based in Chicago, their customized strategies include sponsored ads, product management, storefront enhancement, and loads more. To help you with SEO, they offer:
Keyword research

Constant monitoring

Keyword optimization

Evaluation of high-performing keywords
---

Urtasker is a full-service Amazon marketing agency that's headquartered in Long Island, New York. While they're still relatively new to the scene (they were founded only in 2015), they already boast a global workforce of more than 200 eCommerce marketing experts. They mostly help small business owners and online brands to increase their reach on marketplaces like Amazon. In the short time that they've been in business, they've already helped over 1,000 small online businesses.
From fixing existing campaigns to identifying sales opportunities, they offer a wide range of Amazon-related marketing services. To help you improve your SEO, they can help you with:
Keyword research

Implementing the keywords into your listings

Listing optimization

Analyzing and monitoring campaigns

Competitor analysis

Monthly reporting
---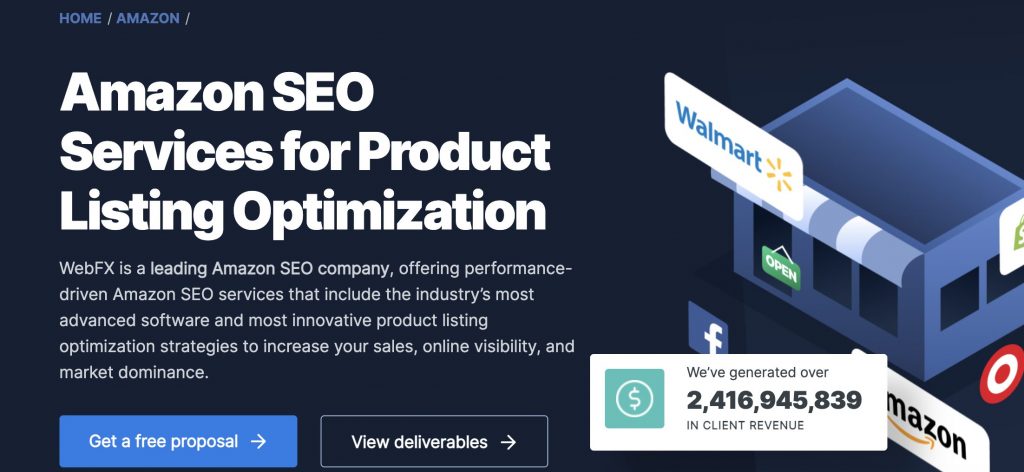 Founded more than a decade ago and boasting locations in over 10 cities across North America, WebFX is one of the top full-service digital marketing agencies. They create custom strategies by paying attention to the unique needs and goals of their clients.
Not only do they offer a wide range of eCommerce services, but their in-house team of over 225 Amazon SEO experts can help you with Amazon SEO services for product listing optimization. In fact, according to their website they've managed close to $12 million transactions for their clients.
Depending on your plan, their services include:
Initial product analysis

Comprehensive product analysis report

Competitive product price analysis

Keyword research for individual products

Product title optimization

Product category optimization

Initial campaign development and strategy
Unlike most agencies, WebFX actually shares their pricing on their website. They offer three Amazon SEO service plans: Bronze, Silver, and Gold. Their pricing starts at $1,300 per month and a $200 initial setup free, making them more suited to mid and large companies.
That being said, they've received a couple of awards and boast some impressive results. For example, according to their website, they've managed to drive more than 255,000 page 1 rankings. That's no mean feat.
---

Based in San Diego, CA, Ignite Visibility is one of the leading eCommerce agencies. In fact, they've been named the number one SEO company in the United States by Clutch for four consecutive years.
The agency was founded in 2013 and can help both large and small businesses by crafting custom solutions. One of the features that sets them apart is that they use a proprietary software called the Forecaster Method to predict the results of the different services that they offer.
With regards to Amazon marketing, they can help you with:
Amazon SEO

Amazon advertising

Product detail page optimizations

Amazon storefronts

Amazon reporting

Amazon listing updates and optimizations

Amazon DSP management
One of the advantages of working with Ignite Visibility is that they offer customizable contracts by taking your needs into consideration. What's more, they use a unique six-step process to ensure that you not only reach but exceed your most important KPIs.
---

With just over a decade's experience, Taktical Digital has helped brands such as Casper and Influenster to make the most of their marketing efforts. As an Amazon advertising agency, they understand the unique features and capabilities of the platform and can help you to identify the most effective strategy that will maximize your audience reach.
Based in New York City, their team of experienced in-house creatives can help you with:
Discussion and research

Developing Amazon ad content

Monitoring of your Amazon ads

Refining your Amazon campaign

Reporting data