While you'll need a phone to decipher the actual QR code, understanding what they are is much simpler. In short, Quick Response Codes (or simply QR codes) are square-printed boxes that store and transmit data. From ticketing to tracking, there are many instances when it makes more sense to use a QR code.
It's especially during the global pandemic that business owners and users have turned more to this humble tool. In fact, Forbes goes as far as to say that if it weren't for COVID-19, QR codes would probably have been a thing of the past. For example, according to Ahrefs the term QR code was searched 60,000 times in Australia in 2021 alone, while the Brisbane Times has reported that the Queensland government's official COVID-19 check-in app has been used to check in over 1 million times already.
Though, it's not just as a contactless solution that QR codes are used nowadays. Product labeling is another popular use. It's becoming more common for consumers to turn to the internet for more product information while they're in the actual store to find more information or compare prices. After all, it's much easier to take out your phone and scan a code than it is to track down a sales rep.
Considering their versatility and consumer behavior, it makes sense to explore this option in the years to come (even after COVID-19 no longer dominates headlines). To help you get started, here are 10 free QR code generators that you can check out.
---
Top 10 Free QR Code Generators to Help you Market in 2022:
---
10 Free QR Code Generators

ForQRCode uses an easy four-step process for creating custom QR codes with logos that will never expire. The first step is to enter your QR contents like website, location, Zoom, PayPal, email, or Bitcoin. Then, after entering your QR contents, you can customize your design so that it stands out and matches your branding. You can, for example, use a transparent background or custom background or foreground color. You can also change the pattern, marker border, and add your own business logo or select a watermark. Once the design has been finalized, all that's left to do is to generate and download the QR code as .png, .svg, or .pdf vector graphic.
All in all, it's one of the most popular free QR code generator tools. Not only does it offer loads of customization, but you also don't even have to register first before being able to download your codes.
---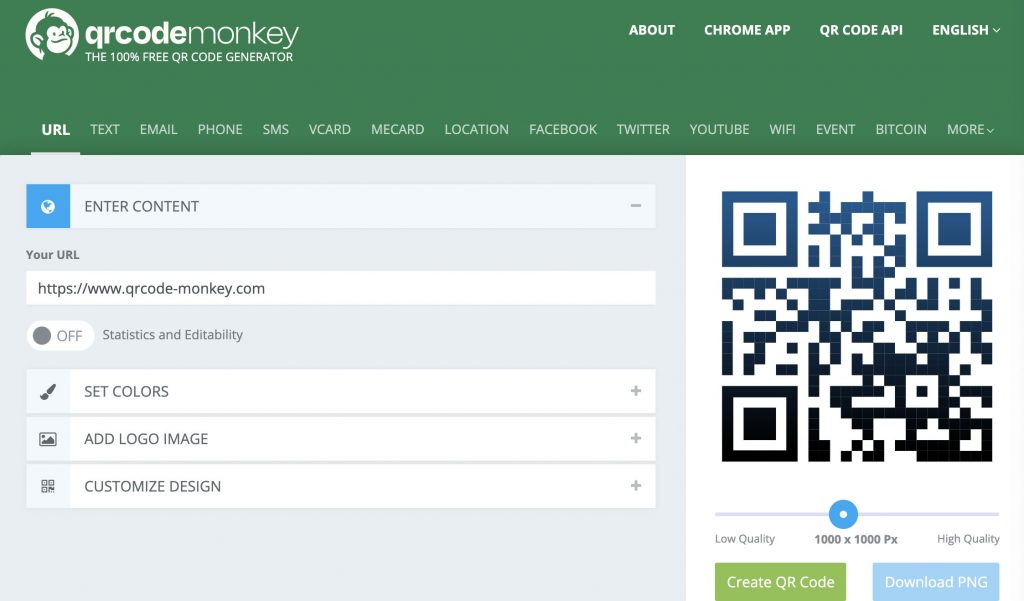 If you'll be using the QR code in hard copies, the quality of the final product is critical. With QRCode Monkey, you can generate print-quality codes with high resolutions that will also be fit for print purposes. Just like ForQRCode, the codes generated don't have an expiration date which means that you'll be able to use them infinitely.
As every QR code has an error correction of as much as 30%, you can also use it to add a logo image as long as it doesn't cover more than 30% or covers the corners. Other ways that you can use to let your QR codes stand out are by customizing the form and shape, using your own colors, and adding a gradient color.
All things considered, QRCode Monkey is a great choice if you'll be running more than one marketing campaign at the same time as it also offers bulk creation and campaign folders features as well as scan statistics. This means that you can track your QR codes to gain a deeper understanding of how your codes are being used.
---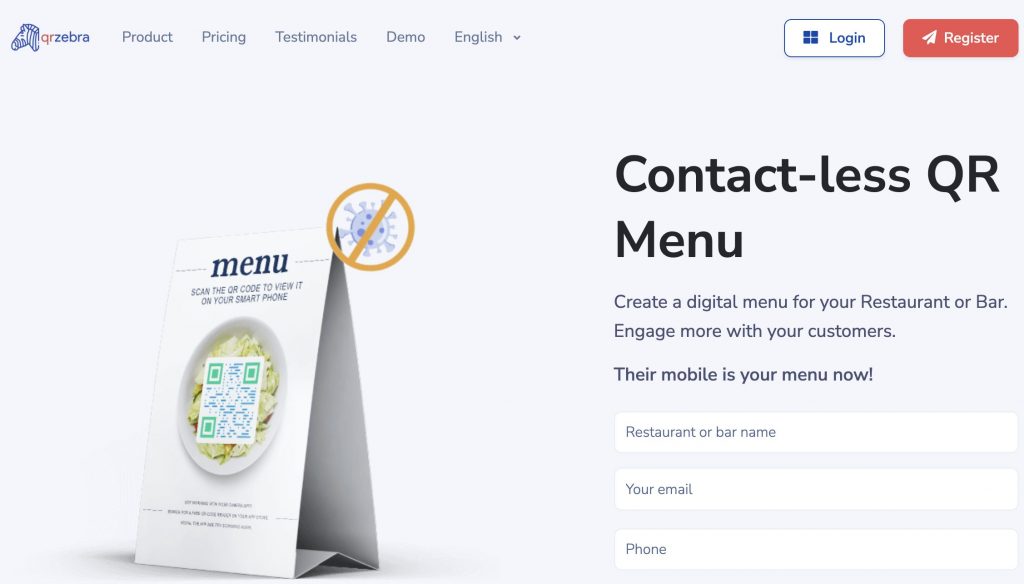 Smaller bars or restaurants that want to create digital menus can check out ZebraQR. With the COVID-19 pandemic forcing many institutions to go as contactless as possible, more customers have grown used to the idea of using digital menus. Plus, this approach is also kinder to the environment. So, it's truly a win-win.
In short, you can use it to create both your menu and QR code. There are eight different designs and unlimited color options which mean that you'll be able to customize it to fit your branding. As you can also use it to make real-time changes and organize your items into categories, it's overall very easy and straightforward to use if you need to make updates later.
While it's not completely free like some of the other tools, it does have a decent Free plan. The main differences between its Free and paid plans are that you'll get access to only some items in the menu and you'll have to rely on community support instead of dedicated support.
---

With free-qr-code, you can create customized QR codes in batches of 100 at a time. It works pretty much the same as similar free web tools. You start by selecting your QR code type, design your code, finalize any changes, and hit that download button.
One of its main advantages is that it offers bulk generation to make the process less time-consuming. So, if you know that you'll need many QR codes at the same time, this is a good option to try.
It also offers a decent selection of customization options. You can, for example, use it to add your own business logo or change the color. Though, one con is that unlike some of other QR code generators discussed, you'll need to sign up for a paid plan if you want to get access to more customization options.
---

Visualead is trusted by more than 500,000 businesses that include the likes of MasterCard, Unilever, BMW, and eBay. According to their website, their tool can help brands to get as much as 400% more scans and twice more leads and social engagements.
With the Free plan, you'll be able to manage three active QR code campaigns and each QR code will be able to be scanned up to 500 times in total. You'll also get access to visual QR codes, animations from its gallery, advanced QR code effects, and mobile landing pages. Though, to be able to remove Visualead's ads and get access to dynamic QR codes editing and advanced scans analytics, you'll need to sign up for one of its paid plans starting at $7.52 per month.
If you're going to use your QR codes for print purposes, signing up for one of the paid plans can work out better in the long run. This way, you'll be able to change what your QR code does after it has been printed. Considering that it costs less than $8 per month, it can make more financial sense as you'll be saving on printing costs.
---

When you land on QR Stuff's website, you're greeted by ample of white space which makes the process of creating a QR code much easier and more enjoyable. Without pointing fingers to any specific tools, we've found that too often free online tools neglect the user experience. With this tool, it's not the case. After all, just because a function is free doesn't mean that the web design should look outdated. And, while we're on the topic of free, another huge advantage that deserves a shout-out is the fact that you can use it to create ad-free codes even with its Free plan.
Instead of having to click on endless buttons and scroll down chunks of text, it's easy to see what you need to do next. You start by selecting a data type. From website URLs to events, the long list of different data types are neatly presented. As there's no need to scroll up and down a drop-down menu, all the options are available at a glance.
It then gives you the option to select between an editable dynamic QR code or a static QR code. Not only do dynamic QR codes offer extra features like analytics, but they are also more reliable as the images are less dense.
The third and final step is to select the style. You'll now be able to select the size and resolution, file type, level of error correction, dots, and corners. It will also give you the option to add an image or logo to your QR code.
---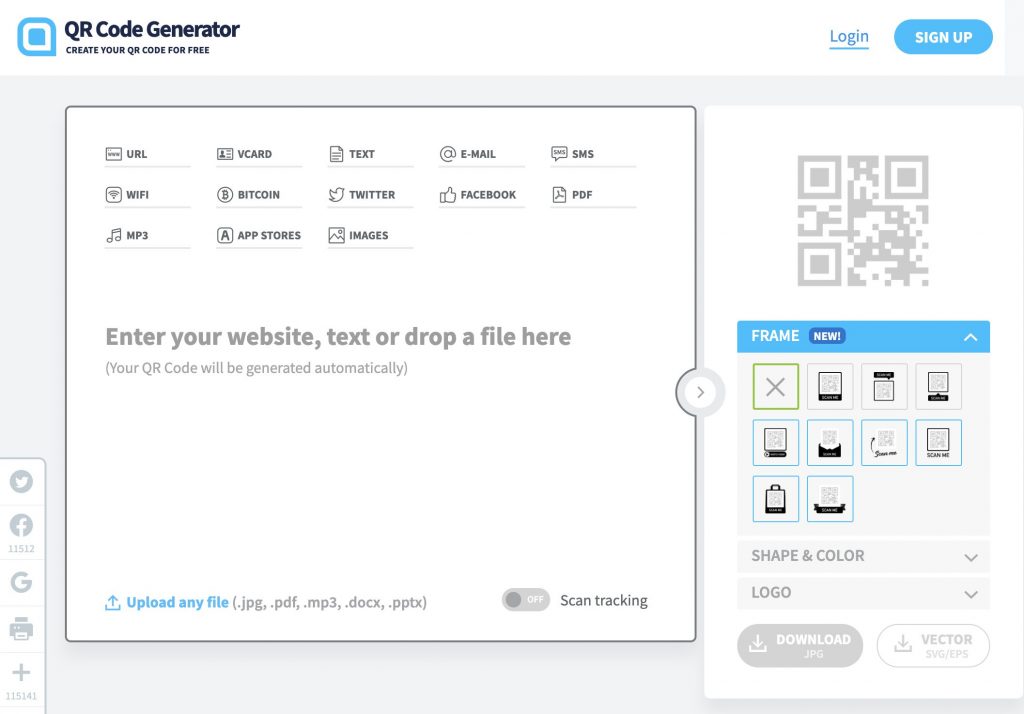 With QR Code Generator, you may select from vCard, plain text, URL, Wi-Fi, email, SMS, Twitter, or Bitcoin. Not only is this list of data types rather limited, but the free QR codes are also not trackable or editable.
With regards to customization, it also doesn't offer a lot. You can basically choose between a standard black-and-white design or one with more colors and different frames. For the ability to add your company icon or logo, you'll need to sign up for its PRO plan.
Also, a word of warning is that its wording regarding pricing is not as clear. When they say that you can use it to create free QR codes, what they actually mean to say is that you can create a "free" account and try out the different features for free for 14 days. Nevertheless, if you have a one-time project that requires a QR code, this is still an option to consider.
---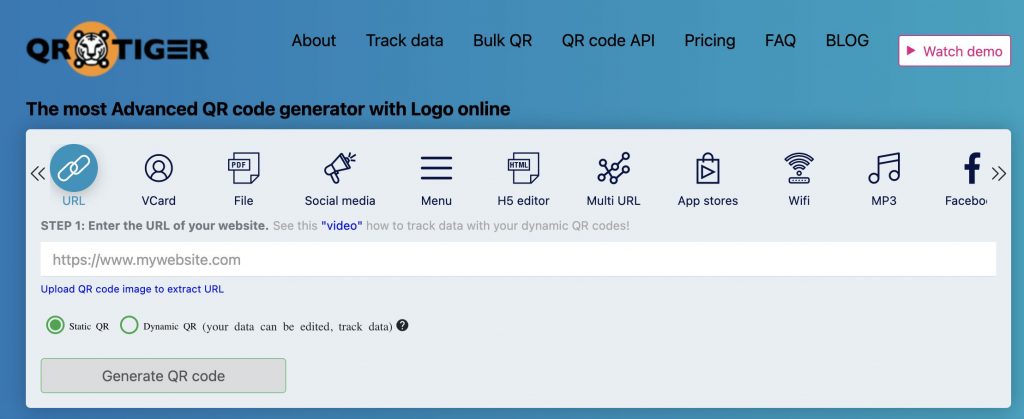 According to their website, their customized QR codes have helped businesses to get as much as 30% more scans (though, this is not nearly as much as Visualead claims to achieve). Trusted by brands like KPMG, Marriott International, Samsung, and Universal, you can use the Free plan to create three active QR code campaigns. If you opt for static QR codes, you'll enjoy unlimited scans, while dynamic QR codes have a 100 scan limit. For the ability to remove the QRTiger logo popup and access the ability to track your scans, you need to sign up for one of its paid plans starting at $7 per year.
With regards to customization, you'll need to get their custom QR code API. With it, you'll be able to get custom QR code templates with a data tracking system, dynamic QR codes or QR codes in bulk. For brands working with CRM software, this can be an attractive option as it also lets them integrate the QR codes into their CRM.
---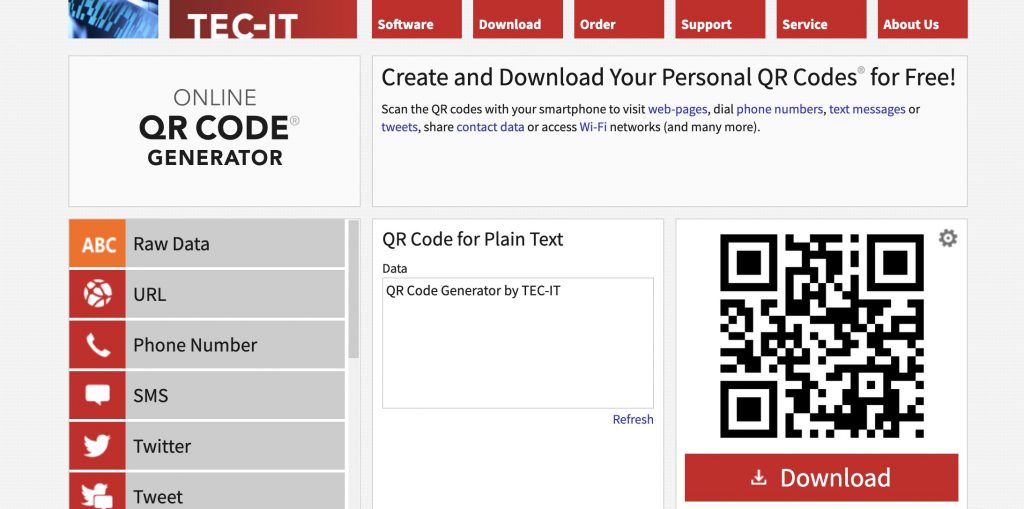 Based in Austria, TEC-IT has been creating software for barcoding, labeling, and printing for over 20 years. You can use it for raw data, URLs, phone numbers, SMS, Twitter, Wi-Fi, email, events, vCards, MeCards and SEPA payments. All you need to do is select the type of data, fill in the details, and download your QR code.
You can also download its free software, QR Code® Maker Freeware, for private projects of non-commercial use. This way the generated QR codes will be available as bitmap files or via the clipboard. It's available for macOS, Linux and Microsoft Windows.
---
If we were to point fingers to tools that skimped on user experience, goQR.me would be a good textbook example. Though, it's still free at the end of the day and, for that reason, deserves a mention.
What we don't like about this tool is how the steps you need to complete are almost added as an afterthought. Instead, the website is text-heavy which just doesn't allow for the most pleasant experience.
Also, unlike many of the offer tools that give you the ability to add your company's logo free of charge, you need to send them your data and only then will they send you a quote which can be as much as $80. So, if customization is important to you, this is not the best pick.
Though, one unique feature is that you can use it to print your QR code on merchandise like a mug, bag, or T-shirt. If this is something that you might want to explore, this tool might interest you.